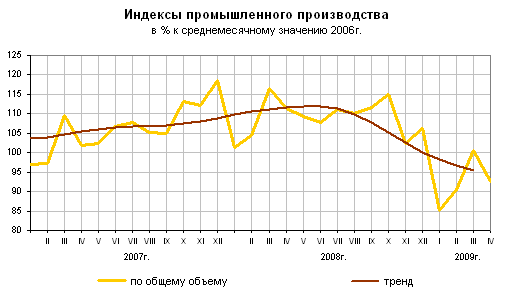 New figures from Rosstat, Russia's statistical agency, indicate that there are little signs of improvement in the real Russian economy.  The latest numbers, published on May 18th, show that manufacturing output fell 14.9 percent in the first quarter of 2009.  Similarly, a report on the state of the economy published on May 15th showed that GDP had fallen 9.5 percent year-on-year in the first quarter.  The International Monetary Fund predicted last month that Russian GDP would fall 6 percent in 2009.
Rosstat bases its manufacturing output index on data from the resource extraction (mining) and manufacturing sectors, and includes the production and distribution of electricity, gas and water.  The metric showed that the first quarter of 2009 stood at 85.1 percent over the previous year.  Output in April 2009 was 83.1 percent from April 2008, and was down from March 2009 by 8.1 percent.
The data seems to indicate that the economy was not yet on a rebound, as some optimistic analysts had earlier predicted.  In fact, the April fall in output was the largest drop since the economic downturn began in mid-2008.  After an apparent stabilization in output during February-March, the rate of decline had once again accelerated.