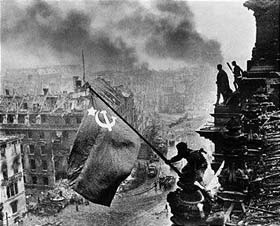 As Russia celebrated the 64th anniversary of the end of the Great Patriotic War on May 9th, its government was preparing to introduce legislation to aggressively prosecute those who would downplay the Soviet triumph over Germany.
Most Russians agree.  According to a survey by the VTSIOM pollster, 60 percent of Russians believe that denying the Soviet Victory in World War II is an act deserving of criminal proceedings.  Communist Party supporters and respondents over 60 were most likely to back the idea, while younger Russians and self-described democrats were more likely to hold the opposite view.  The poll was conducted during April in 42 regions.
In his video blog, Russian President Dmitri Medvedev spoke against the "distortion of history" and decried whitewashing the tragedy and significance of the war.
"We are all the more often encountering what are called historical falsehoods," he said. "Also such attempts are becoming tougher, more malicious and aggressive."
As the Nezavisimaya Gazeta newspaper reported earlier, legislators were planning to introduce draft legislation to counteract historical whitewashing, both in Russia and the former Soviet Republics.  Russian officials have been angered by attempts to remove Soviet-era monuments and honor anti-Soviet resistance movements in Estonia, Lithuania, Ukraine and other former Soviet states.
The bill is titled "On countering the rehabilitation of nazism, nazi criminals and their supporters on the territory of independent states– the former Republics of the USSR."  Both Russians and foreigners could be charged under the draft law, and would face sentences of three to five years and fines up to 500 thousand rubles ($15,500 or €11,400).
The law would also give Russia the power to create a special tribunal to monitor the development of pro-nazi policies in the countries of the Commonwealth of Independent States (CIS).  The tribunal would hand down evaluations on foreign politicians, parties and civic organizations suspected of revisionism.
A foreign national found by the tribunal to have taken part in rehabilitating nazism would be barred from entering Russia, and tried under Russian laws if they were discovered on Russian soil.  Russian organizations and media outlets would be issued a warning from the Prosecutor-General's office.  After several warnings, the organization could be closed by a court order.
The bill proposes several means of responding to former Soviet Republics that allow themselves to question the outcomes of the Second World War.  Russia may expel ambassadors, launch a partial of full blockade of transport and information communication, sever diplomatic ties, and make recommendations to the Russian business community and public organization on cutting ties with the offending country.
Foreign organizations found guilty by the tribunal would be banned on Russian soil.
The idea for such a comprehensive law was first proposed by Sergey Shoigu, the head of Russia's Ministry of Emergency Situations, in February.  Shoigu's suggestion has had a wide resonance with the public, and has been backed by Yury Chaika, the Russian Prosecutor General, and other public figures.
Two of Russia's liberal democratic parties, Yabloko and Right Cause, have called for expanding the legislation to include rehabilitating Stalinism and whitewashing Stalin's repressions as a criminal act.  The idea is ironically fitting as Russia's government has itself been criticized for downplaying Stalin-era terrors, and reconstructing a public image of a "glorious Soviet past."