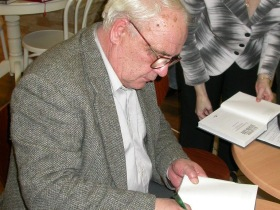 December 22nd, Moscow:
Russia's Central Electoral Commission (CEC) has refused to register Vladimir Bukovsky as a candidate for the March 2nd presidential election.  The renowned writer and Soviet dissident was primarily denied on the grounds that he holds a British residence permit, the ITAR-TASS news agency reported.
Bukovsky, who served 12 years in Soviet prisons, labor camps and psychiatric hospitals, fled to the United Kingdom upon his release in 1976.  He holds both Russian and British citizenship.
The CEC also noted some technicalities regarding education and occupation against Bukovsky's application.  For instance, the candidate had listen "writer" as his occupation, but did not include any documents to confirm this.
Bukovsky's supporters have promised to appeal the decision, and have pledged to go to court if necessary.
Bukovsky is not the only candidate who has encountered difficulties.  The CEC also refused registration for Nikolai Kuryanovich, and Arkhangelsk mayor Aleksandr Donskoi, who has been imprisoned for what he calls "political reasons." United Civil Front leader Garry Kasparov was similarly forced to abandon his campaign after pressure from above.  
In fact, the only opposition candidate who has officially been allowed to register is Union of Right Forces leader Boris Nemtsov.  The CEC accepted his candidacy on December 22nd, and he now needs to raise two million signatures by January 16th, 2008.
Vladimir Ryzhkov, an independent State Duma representative, summed up the sentiment: "The candidate, who is unwanted by the Kremlin, will be removed from the election one way or another."