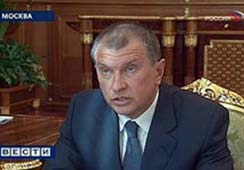 Eastern Europe could face a new energy crisis in the coming winter, facing shortages of gas and oil, according to Russian Deputy Prime-Minister Igor Sechin.  Sechin, who came forward with the warning at a meeting with European Union Energy Commissioner Andris Piebalgs Monday, said the problem lay with Ukraine.
Shortages may come about if the Russian neighbor does not stock-up on enough natural gas, Sechin said, warning that Ukrainian gas infrastructure may not be sufficient in any case.
"If this is not done, the tragedy that we lived through in January will develop catastrophically," Sechin said.  In January, Russia accused Ukraine of stealing gas for domestic use, and cut off gas supplies to the country.  Around 80 percent of Russia's European-bound gas travels through Ukraine, and the shut-off caused widespread shortages across the continent.
Sechin said the EU and Russia must work together to help Ukraine update its transit network.  Russia had earlier been excluded from a EU-backed deal to develop Ukraine's energy infrastructure.
Sechin added that shortages of oil may ensue if Ukraine goes through with plans to re-work the Odessa-Brody pipeline and reverse its flow, cutting Russia from the pipeline.  The Deputy Prime Minister also criticized the Energy Charter Treaty, which he said failed to help in the winter gas dispute.
Piebalgs, meanwhile, responded to Sechin by asking him not to over-dramatize the situation.
"The Energy Charter treaty will continue to live its life until the countries that established it decide differently," he said.
—
Political Analyst Stanislav Belkovsky, president of the National Strategy Institute, commented on Sechin's statements for the Grani.ru online newspaper:
Igor Sechin's declaration, just like Prime Minister Vladimir Putin's earlier speeches, have most of all an air of hysteria.  Russia's leaders have been warned for many years that no good would come from their strategy of aggressive incompetence, which they have adhered to in their energy policy.
In January 2009 is was completely clear that another gas war, launched by Russia at the drop of a hat, would lead to a sharp intensification in construction of gas transport routes around Russia.  This is precisely what has happened.  If before January, the EU-Ukraine project was regarded simply though a political angle, then today it is a priority zone for the European Union's economic interests.  The same can be said about the Odessa-Brody oil pipeline, whose use in direct deliveries has traditionally been considered economically unsound.  At first, the economic reasoning for building the Odessa-Brody pipeline was weak.  From a business point of view, it is noncompetitive as compared with the alternative Russian route, and this is precisely why it has only been used in the reverse (backwards) mode in recent years.
But now, when Europe has become tired of depending on the whim and incompetence of the Kremlin, the Russian Government, and Gazprom, it is plain to see that construction of the Odessa-Brody pipeline has new significance.  And even if the economic feasibility is lacking, the EU will do everything to force it to work in the opposite mode.
The new energy conception, proposed by Moscow as an alternative to the Energy Charter, is consciously weak and purely declaratory.  If anyone in the Russian Government thought that the EU would look at it seriously, then this can again be traced to incompetence.
The many years of childish, I'm not afraid of this word, approaches to the world energy market have undermined Russia's positions as an energy supplier to Europe, have discredited Gazprom and its leadership, and have discredited the state oil companies.  Emerging out of this simply through emotional pressure on European bureaucrats, including EU Energy Commissioner Andris Piebalgs, won't work.  It is clear that Russia must reconsider its strategy of market conduct in the energy sector.  Another question: is there time for this?  Possibly, there isn't any left.  And it's completely evident to me, that neither Igor Sechin, nor Vladimir Putin, nor Alexei Miller are capable neither of formulating a new strategy nor lobbying it through.
translation by theotherrussia.org