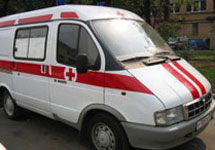 A Russian newspaper editor from the southern city of Rostov-on-Don is in grave condition after he was attacked Wednesday night, the Kasparov.ru online newspaper reports, citing Sergey Sleptsov, a journalist from the paper.  Vyacheslav Yaroshenko, the editor-in-chief of the "Corruption and Crime" newspaper, was taken to an area clinic with a head injury, and remains in a coma.
According to Sleptsov, Yaroshenko was attacked outside his home as he returned from work on Wednesday.  An unknown assailant jumped the journalist, hitting him in the head and temple before fleeing the scene.  The editor was taken to an area hospital, where he underwent surgery that lasted until 5 AM.
Yaroshenko is currently in the intensive care unit, and has yet to regain consciousness.  Doctors believe he still has a chance of recovering, Sleptsov said.
Sleptsov is also convinced that the attack is connected with Yaroshenko's work, linking it to revenge for his newspaper articles.
"I have a suspicion regarding those who organized the attack, but I won't make it public yet," he said.  "We worked on the Corruption newspaper together, and I was attacked in a similar manner at one point."  Sleptsov added that in his attack, it came public that regional law enforcement authorities were involved.
Sleptsov said it was telling that local police have so far refused to file a report on Yaroshenko's attack.
According to the Committee to Protect Journalists, Russia remains at the top of the list for countries where crimes against journalists remain unpunished.  Russia ranks 9th place in the watchdog group's "Impunity Index," behind countries like Iraq, Sierra Leone and Somalia.
In the first months of 2009, Russia has seen a series of vicious attacks against members of the press.  The victims include Saratov journalist Vadim Rogozhin, editor Maxim Zolotarev, and Khimki layout designer Sergey Protazanov, who died from his wounds.