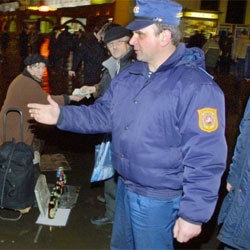 Russia's Ministry of Internal Affairs has backed draft legislation which would create sanctioned civilian militias.  Deputy Interior Ministry Nikolai Ovchinnikov spoke about the so-called community defense volunteer squads with the Rossiyskaya Gazeta newspaper (Rus). The issue has raised some public concern, as citizens questioned putting power into the hands of a parallel police structure.
General Ovchinnikov defined the squads as the "organization of community activity, based on a local approach, in order to handle problems of protecting the public order in the community, in the residence, or where there is personal property."  The self-defense groups should be created based on standard procedure for registering a noncommercial organization, Ovchinnikov said.  Local authorities must also be informed, he added.
Members of these public associations, Ovchinnikov said, would be able to resist criminals when it was necessary for self-defense, and could provide armed resistance when it was required.  Still, the deputy minister sees their main goal as promptly informing police when laws are broken.  A similar type of public vigilance was used in Moscow during a series of apartment bombings in 1999.
Draft legislation which would formalize the self-defense squads was first introduced into the State Duma in January.  The bill also proposes the creation of "people's guards," another type of civilian formation.  Unlike the community defense volunteer squads, people's guards would have the additional power to safeguard public events.