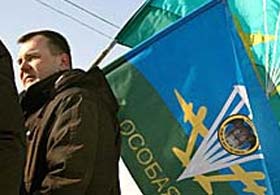 Berdsk, Russia.  Demonstrators gathered in the central square of this small city in Central Russia Monday, to protest army reforms that would disband a local brigade of special forces troops.  As the TASS-Sibir news agency reports, over 1000 people attended the rally, appealing to President Dmitri Medvedev to save the 67th special purpose independent brigade of the GRU.  The demonstrators also called for the resignation of Defense Minister Anatoly Serdyukov.  Among the protestors were special forces servicemen and their families, who came to the meeting despite an official ban.
State Duma representative Anatoly Lokot, of the Russian Communist Party, said the protestors had three demands: to call off the disbandment of the brigade, to dismiss Defense Minster Anatoly Serdyukov, and to completely stop army reforms.  A corresponding resolution with signatures from local residents has also been prepared.  Lokot promised to deliver the appeal personally to President Medvedev.
The Defense ministry has discussed plans to disband the special forces brigade since the start of the year, as part of sweeping reforms introduced by Serdyukov.  Alexander Postnikov, colonel-general of the Siberian Military District, confirmed the intention in a visit to the brigade in late February.  According to reports last year, Serdyukov's extensive reforms have led to discontent among top officers, several of whom quit in protest as result.
In Berdsk, a satellite of Novosibirsk, the decision has made local leaders uneasy.  The city council has asked the Russian leadership to cancel the decision, which would put hundreds of people out of work.  Lokot also sent a request to the Defense Ministry.  Neither petition has received an answer.
The region's governor, Viktor Tolokonsky, had earlier pledged that regional authorities would help those servicemen moved from active duty to the reserves.  Tolokonsky promised support in education and job placement to let soldiers adapt to civilian life.
Lokot was not optimistic.  The disbandment, he said, will "lead to social burdens, under conditions where it's already impossible to find a job."