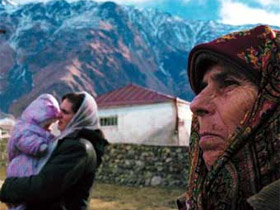 February 23rd marked World Chechnya Day, which solemnly commemorates Joseph Stalin's mass deportation of Chechens to Siberia in 1944.  In an open letter published in the Guardian newspaper, the Chechnya Peace Forum joined with public figures to call for free and fair elections as a way to bring closure to the troubled republic (below).
The London based organization also led a seminar titled "Chechnya. The Forgotten War."  The panel featured Akhmed Zakayev, representing the Chechen government in exile, Ivar Amudsen of the Chechnya Peace Forum, Marina Litvinenko, and Bill Bowring, a professor of human rights and international law.
—

Chechnya needs a fair political settlement
The Guardian, Monday 23 February 2009
Today is World Chechnya Day. On this day in 1944 Stalin deported the entire Chechen population of 500,000 people to Siberia and Kazakhstan, where almost half of them perished in 13 years of exile.
Sixty-five years on, the Chechen people are still suffering. After the collapse of the Soviet Union Chechnya existed as an independent state in all but name before Russian troops invaded in 1994. Following a bloody war, a peace accord was signed and democratic elections were held in Chechnya in 1997, only for Vladimir Putin to order its invasion in 1999, resulting in the displacement of several hundred thousand refugees and the death of another 100,000 civilians.
The Kremlin now claims that the war is over and that there is peace and stability in the region. The reality is that the intensive bombings have been replaced with a regime of fear and oppression which has eroded civil society in Chechnya and suppressed any open and democratic voice. Visits are carefully choreographed for western journalists and dignitaries. They do not see the daily realities of Moscow-imposed Ramzan Kadyrov's rule.
The facade of stability is dangerous. The only way to establish lasting peace in Chechnya is through free and fair elections, which last took place over 10 years ago. On this World Chechnya Day, we urge President Medvedev to find a genuine political settlement that will finally put an end to an entire people's suffering.
Ivar Amundsen Director, Chechnya Peace Forum,
Malcolm Rifkind MP, Andrew Motion, Ken Loach, Prof AC Grayling, Dr Benjamin Zephaniah, Andre Glucksmann, Aki Kaurismäki, Prof Brendan Simms, Jonathan Heawood, Glen Howard, Danny Alexander MP, Raymond Jolliffe, Nicolas Rea, Peter Tatchell
guardian.co.uk © Guardian News and Media Limited 2009