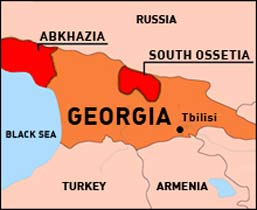 In the near future, Russia will print maps showing the territories of Abkhazia and South Ossetia with colors distinct from Georgia, the Interfax news agency reports.   Radmil Shayapov, the deputy head of the Russian Federal Geodesy and Cartography Agency said the capitals of the new republics would be written as Sukhim and Tskhinval.  The names were determined from recommendations made by Russia's Foreign Affairs Ministry, he said.
Shayapov added that a table map and 2009 calendar including the two territories was already printed at the end of 2008.
President Dmitri Medvedev has also designated an ambassador-at-large to lead the effort to finalize the borders of the two breakaway republics, the Vedomosti newspaper reported Tuesday.  No border agreement has been reached with Georgia, which continues to lay claim to the territories and other areas.
Russia fought a short war with Georgia in early August, and on August 26th recognized the independence of South Ossetia and Abkhazia, two breakaway regions within Georgia.
In November, Medvedev told the French Le Figaro newspaper that the decision to recognize the two territories was "final and irreversible."
"These are not joking matters, he said, "We have recognized these two new subjects of international law. From the point of view of international law, these two subjects now exist."
Still, the regions have not been recognized internationally, and Georgia considers them to be sovereign territories.  Russia's recognition has sparked criticism from the European Union, the US and other governments.  Georgia has since reclassified Abkhazia and South Ossetia as occupied territories.
The only country aside from Russia to recognize Abkhazia and South Ossetia was Nicaragua, which spoke out with support in August.  Afterwards, Nicaragua's Foreign Affairs Ministry postponed establishing diplomatic relations with the two republics for an indefinite period.
—
Further reading:
Russia Started the Georgian War – Analysis
Russian Opposition Party Decries Recognition of Georgian Breakaway Regions