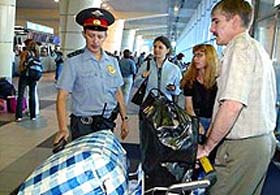 In an attempt to prevent terrorism and arms smuggling, officials in Moscow have instituted mandatory searches for travelers arriving to the Russian capital by air from the North Caucasus region. All passengers on flights from the area, which include the Republics of Chechnya, Dagestan and Ingushetia, will now be subject to a complete search when they arrive, the Interfax news agency reports, citing law enforcement officials in the agency responsible for air and water transport.
Police investigator Viktor Ivashchenko said the new rule will be enforced to prevent the stockpiling of weapons, ammunition and narcotics in the Moscow region.
In addition, searching every single passenger from the primarily Muslim North Caucasus region should help in detecting individuals planning to stage acts of terrorism or other extremist actions, Ivashchenko said.