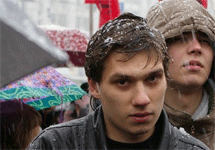 Anton Stradymov, a 20-year old activist involved with the banned National Bolshevik Party, was found bloody and near death on January 14th, near the Vykhino metro station in Moscow. The youth, who had taken part in a number of opposition demonstrations, including Marches of Dissent organized by the Other Russia coalition, died shortly after arriving at the hospital, according to National Bolshevik press-service.
The information on Stradymov's murder first came public on January 19th. Friends of the deceased youth were working with police to get the investigation moving.
A blog run by National Bolshevik press-secretary Darya Yakovleva said that one of Stradymov's friends, "Katya" was called in to identify his body on January 19th. Katya said that the activist was attacked with incredible severity, that most of the blows were to his head, and that his skull was cracked in several places, according to the blog.
There was no clear motive or suspects in the attack, but friends speculated that Stradymov's political activities may have been a reason.
"We are not going to make rash conclusions, but.. Anton did not have personal enemies," Yakovleva wrote in the blog. "It is unlikely that he could have interested muggers, all the more so since all of his personal things that could have had any value remained on him.
"But he had managed to do some harm to many with his political activities. And no one hits like that at an ordinary street fight."
Stradymov is not the first National Bolshevik activist who has been assaulted and killed in recent years. 23-year-old Yury Chervochkin died in December 2007 after he was jumped on the outskirts of Moscow in November of that year. Chervochkin had called friends shortly before his attack and expressed concern that he was being followed by officers of the UBOP special police forces.
The National Bolshevik party, which is led by author Eduard Limonov, is known best for its anti-Kremlin street demonstrations and non-violent public pranks. The party has been banned repeatedly by authorities, and a number of its members are currently behind bars.
—
Read about Limonov and the National Bolshevik Party from the New York Times and from Radar Magazine.