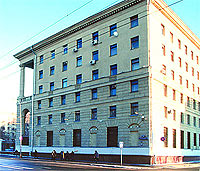 Despite several attempts, a lawyer, family members, and even a Russian congressman have been unable to visit arrested Russian opposition leader Garry Kasparov, who was detained after a Moscow march protesting against the Putin regime. Kasparov is being held at the famous "Petrovka 38" (photo) criminal police building in Moscow and so far has not been allowed to receive visitors, even to confirm his presence and health, or to make a single phone call.
Opposition parliamentarian Vladimir Ryzhkov accompanied a lawyer to the jail after being told they would be able to see Kasparov, but upon arrival they were told he could not receive visitors. One officer told them "he is a VIP here and is treated fine. You can deliver food and clothes, but no visitors."
Kasparov's wife and mother spoke with theotherrussia.org and expressed extreme concern and agitation over the unknown condition of the former chess champion. Kasparov's wife, Dasha Kasparova, stated, "Of course we are very worried, especially after hearing the police at the court say they had been ordered in advance to arrest Garry specifically. Who knows what they have planned for him? And why can't we visit him? We are asking everyone to get this story out and to let Putin know that the world is watching and that he will be responsible if any further harm comes to Garry." The Kasparovs have a one-year-old daughter and have residences in Moscow and St. Petersburg.