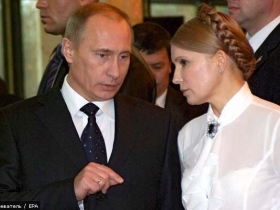 No agreement between Russia and Ukraine was reached Saturday, as high-level officials met in Moscow in an attempt to resolve the ongoing gas crisis. Russian President Dmitri Medvedev, speaking at a press-conference, said that gas flows to Europe should still hopefully resume shortly, and said negotiations would continue, according to the RIA Novosti news agency.
The summit, which the European Union dubbed the "last and best chance" for the two countries to keep their reputations as reputable gas suppliers, was the last in a series of failed attempts to end a protracted gas dispute. Countries in the EU and Eastern Europe have had gas supplies cut, and consumers and industry have lost power and heat in the dead of winter. The talks marked the highest-level negotiations over the dispute, as Russian Prime Minister Vladimir Putin met with Ukrainian Prime Minister Yulia Tymoshenko and officials from their two respective national gas companies.
Medvedev said that it was improper to speak about yielding on the price Ukraine pays for Russian gas, one of the major issues in the dispute. "We cannot talk about some kind of compromises," he told reporters, "and on the contrary, we need to talk about working in a civilized, measured way, based on those European prices that other countries work with."
Instead of reproaching each other, the disputing sides should create an "effective mechanism of defense against these situations," Medvedev said.
The president declined to comment on the theory that the current gas crisis was somehow influenced or protracted by the American presidential administration. "I am not a proponent of conspiracy theories," he said, "and I won't speculate now about anyone's role or influence in [the conflict]."
The crisis in Russian-Ukrainian contractual relations on the delivery and transit of natural gas first started at the end of December 2008. The two sides first failed to agree on a way to resolve Ukrainian debt to Russian gas monopoly Gazprom, and could not reach a compromise on gas and transit prices for 2009. Ukraine paid Russia 1.5 billion dollars for past debts, but did not pay a controversial $614 million in alleged fines. As result, Gazprom cut gas deliveries to Ukraine on January 1st, while continuing shipments through the country.
Russia then accused Ukraine, a major transit route of gas supplies bound for Europe, of siphoning off gas for its own customers. All gas shipments through Ukraine were completely cut on January 7th.
The drop in Russian gas deliveries has led to emergency conditions in a number of European countries. Bulgaria, Greece, Turkey, Macedonia, the Czech Republic, Austria and Slovakia, which receive all their natural gas from Russia, have had no new shipments, and have eaten through their reserves. Volumes have also dropped significantly for Romania, Hungary, Poland, Germany, France and Italy. Several Eastern European countries have been forced to take emergency measures to conserve gas, shutting factories, closing schools and delivering heating only intermittently to some residential neighborhoods.