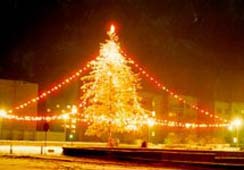 The Grani.ru online newspaper asked prominent figures within the Russian opposition to describe any positive developments resulting from the global economic crisis, both for the country and themselves personally. Translation by theotherrussia.org.

—
"Along with happiness, in the exact same way and in perfectly equal proportion, man also needs unhappiness," Dostoyevsky once said. "When trouble comes, don't shrink from it," the [Russian] proverb teaches. But are there any positive effects of the crisis that has seized Russia in the run up to 2009? Boris Nemtsov, Yevgeny Gontmakher, Garry Kasparov, Yevgeny Yasin, Nikita Belykh, and others respond.
Boris Nemtsov, board member of the Solidarity movement: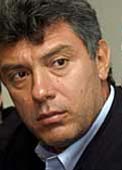 One point is welcome to everyone: gasoline prices have started to fall. Even though they are falling tenuously for now, they should fall to around 15 rubles [per liter] – and everything still lies ahead. Another good point for everyone is that prices for housing and land have started falling: this is also nice, although few have the money [to buy].
Another good thing is that new people have started coming into the Solidarity movement. Seven young twenty-somethings walked in to the political advisory council at the [Solidarity] conference. The youth understand that the country is headed the wrong way. I consider this a fantastically good moment – not only Roman Dobrokhotov, not only Ilya Yashin, not only Yulia Malysheva, but many other young people from the regions were with us. [Youth] in the country are defining their stances. In my opinion, this is the major positive result of the crisis. It is impossible, after all, to remain in a constant state of oil and gas delirium. The faster we sober up, the better it will be for Russia.
Yevgeny Gontmakher, chair of the Center for Social Politics at the Economics Institute of the Russian Academy of Sciences: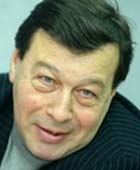 A crisis is always a chance to make sense of what has happened, and glean some sort of lessons. For all the past years, we accumulated problems and didn't solve them. Only a crisis, perhaps, can push us to finally solve these problems, although the situation isn't the most favorable for this at the moment. But nonetheless, there are positives in this sense.
What positive points can I see for myself personally? I regard life with great interest. I am curious as to what will happen with the country in these new, unorthodox conditions. I want to hope that everything will end well, and that we come out of this crisis in a civilized manner as a democratic country with a market-driven economy. As a country open to the world.
Nikita Belykh, appointed governor of the Kirov oblast: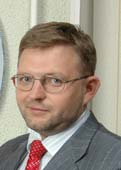 I will probably not be very original, but will still say that the crisis, despite all of its drastic consequences, the tightening of belts and so forth- is a time of possibilities, a time of rising personal effectiveness and competitiveness. I think that within the frame of the crisis, a new generation of entrepreneurs and businesses will emerge, which will be able to take a dignified role not only in the Russian but in the global economy. [They will succeed] because they will prove their competitive ability in such severe conditions. This also applies to the political system.
From this perspective, I accepted the proposal [to become governor of the Kirov oblast]. I believe that if I can do something positive for the oblast, it will demonstrate my personal competitive edge and at the same time underscore that liberals can effectively administer the regions. I hope very much that from within one region, I will be able to show that we are not simply in a position to speak, criticize, point out flaws, but also to engage in substantive action.

Yevgeny Yasin, Research Director at the Higher School of Economics: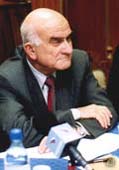 For myself personally, I do not see any positive moments. The only good I see for the country is that the crisis could somehow affect those stagnant developments that have formed in our economy and society. They are connected, first of all, with high oil prices, which paralyze any kind of changes whatsoever in the domestic social structure. Secondly, [they are connected] with the authoritarian rule which has grown from this oil-based economy. This is a fairly difficult, painful adaptation, but it is essential to make our society and economy more healthy, so that they are oriented to work, risk and progress.
Maria Gaidar, politician: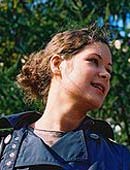 I do not see any positive points, neither for myself nor the country. The restructuring taking place in the commanding elite comes at too high a price. We could somehow sober up without it. Without people being laid off, without falling industrial production. It is a tough time, what good is there? It is a tough, difficult time for everyone: for my friends who are losing their jobs; for the people who ran their business, their small or mid-sized, honest market-based business, and who now have colossal problems; for editorial offices, who are laying off journalists. If housing prices fall sharply – this will be good, but nothing else good can happen. There are no pluses in this. Including political ones.
Dmitry Oreshkin, head of the Merkator research group: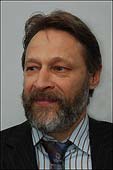 I am feeling a certain satisfaction as an expect, because all of what we long predicted is being realized. Unfortunately, this looks fairly nasty, and will get even nastier. Of course, the personal feelings of an expert have no significance at a time when the situation is becoming worse.
As for the good in this year, the society is apparently starting to recognize itself as separate from the government. The state tries to contrive and invent something, but the people understand that they cannot wait for some benefit from the state, and act independently. This is the number one point, because whatever they are saying at the top, people are acting in their own interests. For instance, rubles are being exchanged for foreign currency, businesses are transferring money abroad– this is a rational policy, but a personal policy, not a government one. This kind of individual behavior naturally leads a person away from the government.
At the end of the 80s, a serious public protest only started when cigarettes ran out in the stalls. People had become accustomed to the fact that there was no food. It was normal that there was never [food in the stores]. Now, since a new class of people formed who are aware of their interests and who are trying somehow defend these interests, the threshold for protest is lower. Which means that things are unlikely to go so far as the Soviet example. People already understand that they cannot expect anything good from the authorities. We are promised that everything will be in order, and we understand perfectly that everything will not be in order, and solve our own problems. As result, this governmental monster ends up sort of isolated from reality. This is very dangerous, but unfortunately, is inescapable with the model of governance built by [Vladimir] Putin. This is precisely why all the unpleasant predictions are justified, regrettably.
For me personally, a time of freedom has come, and I in no way depend on the government. I have cut all contacts with the state institutions and feel like an independent person.
Garry Kasparov, leader of the United Civil Front: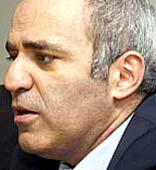 A crisis is the kind of thing where it's hard to find any positive points, because it affects everyone. Maybe someone will cash in on it, but I do not belong to that group of people. And if we speak about the political and economic situation, then in Russia, as in America, China and Europe, the crisis is revealing problems in the existing authorities, their mistakes, miscalculations, and willingness, or lack of willingness, to find adequate solutions together with the public.
For Russia, in my opinion, the crisis tallies up the Putin epoch, and demonstrates that the Putinist economic and political models are exhausted. This supports our fight, because many are starting to understand that our warnings and estimations weren't just conjectures, but were based on a true assessment of the state of affairs.
A crisis is always fraught with risk and possibility. The one who withstands the crisis – in their personal life, in politics, in the economy, on the chess board – comes out stronger, and hence with a better outlook. We need to build plans for the future, understanding that the crisis will not spare anyone.