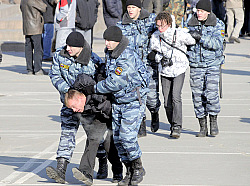 Across Russia, demonstrators have taken to the streets to protest a new import tariff on foreign cars. In Vladivostok, Russia's largest Eastern city, as many as 1000 demonstrators took the streets over the weekend. Over 100 were arrested as riot police responded with violence, clubbing demonstrators with batons and assaulting journalists on the scene.
Demonstrations, numbering hundreds of people, have also taken place in other Russian cities, centering in the far-eastern Primorye region. Car enthusiasts and importers are angry at the new tariff, which raises prices on used cars imported from Japan and other Asian countries.
The tax, initiated December 10th, aims to encourage domestic production of cars and press Russians to purchase cars made in the country.
While authorities have not backed off the tariff since protests began nearly two weeks ago, they have begun to make some concessions. Prime Minister Vladimir Putin promised to cut shipping charges on domestically made cars, so that Russians in the far east would not pay more than those living in the European side of the country.
Still, many demonstrators were unsatisfied with the proposal and shocked at the police response to a peaceful demonstration. Vladimir Litvinov, who leads a human rights group in Vladivostok, spoke candidly with The Associated Press:
"We support a civilized resolution to all the problems," he said, "but when they send Moscow riot police to break up a gathering in our city, and they start breaking arms and legs and heads… People are very, very angry. It's hard to predict what might happen now."
—
Solidarity, an opposition movement launched by democratic critics of the Russian government, released a statement directed toward protesters:
An address from Solidarity to participants of protests against raising tariffs on foreign cars.
December 19, 2008
Dear friends and colleagues!
Our movement expresses solidarity with your valid and legal demands, and fully backs you. Raising tariffs on foreign-made cars is a blow to more than twenty million car enthusiasts in our country, and a blow to jobs in the auto business. [Prime Minister Vladimir] Putin took this decision to protect the oligarchs close to him, who own car businesses: S. Chemezov (AvtoVaz) and O. Deripaska (AvtoGaz). This will not lead to anything other than higher car prices and the preservation of a lagging Russian auto industry. In substance, when he had to choose between twenty million car lovers and the oligarchs, Putin chose the latter.
On December 19th, Putin spoke out with an initiative to purchase domestic cars out of the [federal] budget. However, we doubt that he and members of the government will lead by example and support the domestic car industry. [We doubt] that Putin will stop driving in a Mercedes with a convoy of countless foreign-made cars.
Solidarity proposes that civil servants drive domestic cars, and that import tariffs not be raised.
Only a protest with solidarity can force the authorities to carry out the will of the people!
-The office of the Solidarity Federal Political Council