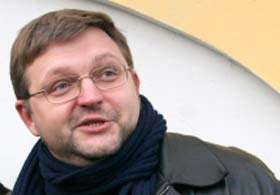 Nikita Belykh, a former Russian opposition leader, has accepted a federal appointment to be governor of Russia's Kirov oblast, some 800km northeast of Moscow. As RIA Novosti reports, Belykh's candidacy was proposed by President Dmitri Medvedev on December 8th. The current governor of the region, Nikolai Shaklein, is due to leave office on January 14, 2009.
"This is of professional interest to me," Belykh told the Ekho Moskvy radio station. "I think that an area like Kirov Region needs efficient management and administration in difficult economic conditions. I think that I can be of use to Kirov Region in this capacity."
Belykh, who once led the Union of Right Forces (SPS) party, will most likely cut professional ties with other opposition groups. As governor, he said he will remain independent of any political party.
In recent weeks, the politician had been working with a new group, titled "Solidarity," which was formed to speak out against changes to the Russian constitution.
"I don't think I will be able to take part in the movement," Belykh told RIA Novosti after his appointment was made public.
Belykh stepped down from SPS this year, as the party faced increasing financial troubles. Since then, the group was liquidated, then merged with two other parties into a new Kremlin-backed project called Right Cause, which has been called a "marionette" by critics. Belykh has been accused of doing little to stop the integration, but has spoken against it publicly.
Other Russian opposition figures had mixed responses to the appointment.
Garry Kasparov, who heads the United Civil Front and has worked closely with Belykh in the Solidarity movement, told the Kommersant newspaper that he was aware of negotiations between Belykh and the Kremlin.
"We had an agreement with Belykh that political relations were one thing and personal another," Kasparov said. "We had an agreement that should he accept any such offer, it would put an end to our political contacts."
"Everyone makes his on choices," he continued. "If he entertains any doubts concerning what we've been doing, then he is welcome to choose the Kirov governorship."
Boris Nemtsov, a former Deputy Prime Minister who also worked with SPS, told Ekho Moskvy radio that Belykh "has made his choice."
"Undoubtedly, this is his decision, and he himself determines his fate. Personally for me, cooperation with the authorities is unacceptable."
"[Belykh] believes that this is an administrative job." Nemtsov said. "A governor's job is a political job, all representatives of authorities shoulder responsibility for everything that is done in Moscow, all the more so in the conditions of a rigid chain of power."
Maria Gaidar, another former SPS leader, was harsher in her criticism, saying that Belykh had "sold out." Belykh's acceptance of the appointment would indicate that the process was connected with the Right Cause project, she said Monday.
Vadim Prokhorov, Belykh's lawyer, defended the politician's decision as a step in the right direction. The benefit, he told Kommersant, was that one Russian region could now organize opposition meetings, "without the fear that the conference hall or whatever was leased for the purpose will be closed down at the last possible moment for alleged repairs."