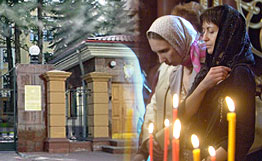 Two church officials were injured Sunday when an explosive device went off during services at a Moscow cathedral. As the Interfax news agency reports, investigators were compiling a list of suspects, and had already detained 15 people as of Monday December 1st. The news agency's source said that a group of satanists may be responsible.
A preliminary investigation concluded that the explosive device was a home-made concoction comprised of a glass jar filled with a chemical mixture. The motive for the attack was unclear, but officials suspected a random act of hooliganism.
"Two young people, aged 16-17 and of Slavic appearance, walked into the church, left a bag and fled," a law enforcement source told the ITAR-TASS news agency. "The bag started smoking, and the church officials tried to carry it out of the church when the explosion went off."
The ensuing explosion was equivalent to around 50 grams of TNT. The two victims, aged 50 and 62, received treatment for burns and splintered glass, and their condition was listed as fair. Around 50 people attending the church services were unharmed.
Officials of Russia's Orthodox Church were shocked by what had happened. "There have been church burnings, attacks on the clergy, but explosions—this was a first," said Vladimir Vigilyansky, the director of the Moscow Patriarchate's press-service.
"Our society's [morality] is in a very deplorable state," the priest said.