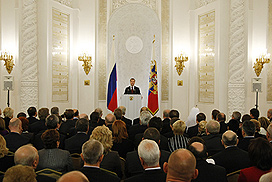 Leading figures in the European Union have responded extremely negatively to Russian President Dmitri Medvedev's proposal to site Iskander nuclear missiles in the Kalinigrad oblast. As the Kommersant newspaper reports Friday, even Moscow's traditional allies in Europe have criticized the new policy.
The Kremlin has reasoned the move, which would put nuclear-capable missiles deep in Central Europe, as a response to an American missile defense system in Eastern Europe.
German Foreign Minister Frank-Walter Steinmeier called the step "the wrong signal at the wrong moment."
Benita Ferrero-Waldner, the European Commissioner for External Relations, also shared her mind. "It's a surprise to me," she said, "a not very pleasant one. Deploying missiles in Kaliningrad won't contribute to improving security in Europe."
Eastern European leaders were also clear, describing Medvedev's proposal as "deplorable," and "blackmailing."
"Dmitri Medvedev's statement is no friendly act," said Radosław Sikorski, Poland's Minister of Foreign Affairs. "What worries us the most is that earlier we heard such rhetoric from generals, and now we hear it from the President when he delivers his keynote speech."
Bronislaw Komorowski, the Chairman of the Polish Parliament, sounded more severe: "Now that a new administration has come to power in the US," he said, "such statements only aggravate the situation. They resemble blackmailing, which no one approves of."
In one week, the first Russia-EU summit since the August war in the Caucasus will take place in Nice, France. Diplomats had hoped to renew interrupted negotiations on a new Partnership and Cooperation Agreement between the EU and Russia. Now, "Old Europe's" nations, who fought hard to prevent sanctions against Russia, are finding it harder to push for normalizing relations with the Kremlin.
Lithuanian president Valdas Adamkus described Medvedev's words as contradicting themselves. "He speaks about willingness to jointly confront common challenges and moves his missiles to Kaliningrad to neutralize the U.S. AMD system."
NATO was also preparing a response to the Kremlin's firm rhetoric. "Medvedev made a serious and aggressive statement," a high-level official told Kommersant. "Moscow shouldn't think that it will get away with it. No one has sought large-scale confrontation so far, but we are going to respond to the President's words. We just need some time to analyze everything,"