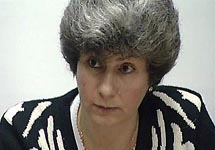 Police in the French city of Strasbourg have launched a criminal investigation into what appears to be a poisoning attempt of Karinna Moskalenko, a renowned Russian attorney and human rights advocate.  As the Novaya Gazeta newspaper reported Tuesday, a quantity of what appeared to be mercury was found in Moskalenko's automobile.  Earlier this week, Moskalenko had complained of headaches and vomiting.
A preliminary investigation has concluded that the compound was in fact mercury, a highly toxic liquid metal that can damage human health and may have put Moskalenko's family at risk.  At present, Moskalenko's condition is being described as satisfactory.
Moskalenko regularly spends time in Strasbourg, and works with cases before the European Court of Human Rights there.  She has represented jailed oil oligarch Mikhail Khodorkovsky, Chechens who accused Russian authorities of brutal abuses, and a number of other prominent human rights cases, becoming one of Russia's most well known rights attorneys.  Currently, Moskalenko is working with the family of journalist Anna Politkovskaya, who was murdered in a contract-style killing outside her apartment in October 2006.
French police have refused to comment on the investigation, and have not disclosed any conclusions.  While the event was described by some reports as a poisoning attempt, it was unclear whether there were other ways the mercury could have appeared in the car.  The family purchased the used vehicle in August.
Karinna Moskalenko was supposed to take part in pre-trail hearings into the Anna Politkovskaya case on October 15th.  The trial, which is being held behind closed doors at a military court in Moscow, has not been suspended.  It is unclear when Moskalenko will resume her role as the victim's lawyer in the case.
—
Karinna Moskalenko on the mercury in her car:
"I do not know how long this substance was in the car, and for how long we breathed its fumes.  We constantly drove around Strasbourg, where I had to appear before the European Court of Human Rights.  I became ill, everything was swollen, I developed a cough, and I even had to go to the hospital.  But I also don't know to what extent this is connected to a poisoning.  Despite feeling ill, I was able to address the court yesterday."