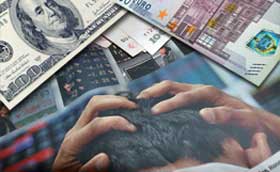 Russian Prime Minister Vladimir Putin warned today that the global liquidity crisis was quickly spilling over into the real sector of the Russian economy, the Newsru.Com online newspaper reports. Speaking before the Cabinet's Presidium on Monday, Putin acknowledged that government efforts to ease the situation in the financial sector were not having the desired effect.
"All my contacts with representatives of the real sector of the economy describe how these businesses are starting to experience a certain financial hunger," Putin said.
Russian companies have increasingly reported difficulties in obtaining credit, which has led to layoffs and shortages. Last week, Russian automakers GAZ and KamAZ announced that they were dealing with financial issued by cutting production and shortening the working week, respectively. Heavy industry, banks and retail outlets were also reportedly cutting staff and tightening operations.
Putin went on to urge lawmakers to act immediately to improve liquidity and access to credit, and to finish work on amending the 2008 federal budget.
"Decisions have been adopted, but in some cases cash fails to reach the real economy," he said.
Still, the Prime Minister distanced his government from the crisis, saying that practically all world economies are hurting. Putin had earlier blamed the United States for failing to act decisively enough.
The Kremlin has already enacted several measures to improve liquidity in Russia's financial system, including a 950 billion ruble injection into the banking sector. Despite this, Russian markets have imploded since the start of the year, losing over 60% of their value in 2008. Even with new imminent government intervention, the MICEX dropped nearly 5% today, while the RTS was down over 6% at closing.