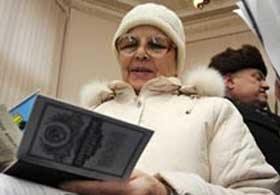 As a liquidity crisis continues in Russia's financial sector, the Vedomosti newspaper reports that Russian depositors withdrew some 37 billion rubles (€1.04 or $1.42 billion) from private sector banks in September.  The hardest hit was Rosbank, which saw deposits fall from 116.6 to 99.5 billion rubles.
Other institutions among the nation's ten largest banks also saw large outflows of deposits.  Depositors withdrew 6.5 billion rubles from Raiffeisenbank, 4.3 billion from the Moscow Bank, and 2.9 billion from Alfa-Bank, Uralsib and Gazprombank.
The data seems to suggest that ordinary Russians are skeptical about the security of their assets, even as the Kremlin tries to paint a rosy picture about the economic situation facing the country on state-run media.
The banks themselves called the withdrawals insignificant, declining to describe the move as a crisis of confidence in the financial system.  Representatives told Vedomosti that the withdrawals likely had more to do with people returning from summer holidays.
In September, a liquidity crisis hit the Russian banking sector, resulting in sky-rocketing inter-bank lending rates.  A series of financial groups, including KIT Finans and Svyaz-bank, were ultimately purchased by state-run institutions for bottom-barrel prices.