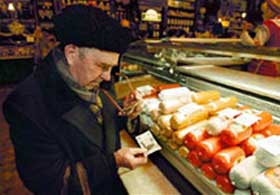 The Romir Group, a Russian polling agency and market research firm, has released a new finding suggesting that inflation in the country is far above official estimates. As the Kommersant newspaper reports, Romir has released a new model to rival the consumer price index used by Rosstat, Russia's statistical agency. Urban residents, it finds, saw costs rise 40.7% in the first eight months of 2008.
The new model, called the Shopper Centric Information Flow (SCIF) index, measures consumption by households, and monitors growth in consumption and costs. A number of households are asked to scan the barcode of every item they purchase for home use, from groceries to toilet paper. Over time, the model allows researchers to track both increases in prices of goods, and also increases in consumer incomes. The SCIF index ultimately tracks which items are consumed, where and when they are purchased, the price paid for them, and even who they are purchased for.
The firm's experts believe this provides an alternative to official inflation figures, which only keep track of changes in price for a wide basket of goods.
For their latest finding, Romir polled 8520 residents (3000) households in 32 major Russian cities. The group discovered that urban residents have seen expenses rise by 40.7% from the start of 2008 to the end of August.
Andrei Fedotov, the general director of Romir Panel, which released the report, said lower-income households were hit the hardest. "Inflation hits low-income groups most of all, whose consumer basket consists of basic food-stuffs," he said. "The SCIF index turned out low for high net worth groups—the price of the consumer basket has risen less for them."