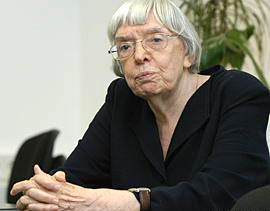 The Moscow Helsinki Group has announced that it will stop accepting funding from foreign sources, following the passage of a new law that would label Russian non-governmental organizations that do so as "foreign agents," Interfax reported on Friday.
Long time human rights advocate Lyudmila Alexeyeva, who heads the organization, told Interfax that it will refuse all foreign funding starting on the day that the law goes into effect. Instead, it will attempt to survive on donations – a dim proposition.
"I don't think that we're going to collect much," Alexeyeva said. "Poor people aren't accustomed to donating money to non-commercial organizations, and rich people are afraid that they might lose their businesses."
"We received our first grant in 1993, when we were a respected organization known worldwide. We worked without money then, and we'll work without money now," she added.
The new law on NGOs was passed by the Russian State Duma on Friday, and now only needs approval from President Vladimir Putin, who has expressed strong support. Once it goes into effect, NGOs that receive money from abroad will be subject to a number of measures that will make it more difficult for them to function. Organizations that accept such funding will be subject to audits every year, whereas ones that don't will only be audited every three years. NGOs with international funding will also have to include a phrase identifying themselves as "foreign agents" in all of their announcements, publications, and other media.
Outrage from NGOs and Russian civil society has a whole has been unanimous in decrying the measure as recalling the tone of the Cold War and evoking an image of foreign-funded NGOs as spies.