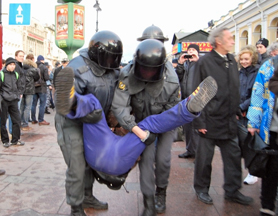 More than 160 Russian activists were detained at Strategy 31 rallies in defense of free assembly in Moscow and St. Petersburg on Monday, in the last such rally before parliamentary elections are held on December 4.
In Moscow, Triumfalnaya Square was cordoned off by police from early morning hours, with officers telling journalists that "some sort of event" would be held there in the evening.
As the rally began and cries of "freedom of assembly always and everywhere" and "freedom to political prisoners" could be heard among the 200-strong crowd, riot police pushed a crowd of journalists and photographers away from the square towards an underground pedestrian passage and set about detaining the activists. Among those arrested were Solidarity members Ilya Yashin and Anastasia Rybachenko, Other Russia party leader Eduard Limonov, and United Civil Front Moscow leader Lolita Tsariya.
According to Kasparov.ru, numerous activists were severely beaten by police while being detained. Doctors called to a police station where Rybachenko was being held advised her to have her neck examined in the station's trauma center. Other Russia member Konstantin Tofimtsev was also reportedly beaten and placed in a cell separate from the other detainees.
Moscow city authorities had refused to sanction the protest on the basis that "archeological work" was being done on Triumfalnaya Square. While the square has been cordoned off for more than a year due to supposed construction plans for an underground parking garage, virtually no work has been done over that time.
In St. Petersburg, between 400 and 1000 Strategy 31 protesters attempted to hold an unsanctioned march along Nevsky Prospect. They were blocked by police, however, who then began detaining participants. According to local Other Russia leader Andrei Dmitriyev, many were kept in police holding overnight.
Approximately 150 protesters came out to a Strategy 31 protest in Rostov-on-Don. According to local United Civil Front and Solidarity leader Boris Baty, oppositionists were forced to go through several different courts before local authorities would sanction the event.
In Omsk, opposition organizers were prevented by local authorities from holding a regular rally, and local United Civil Front Secretary Viktor Korb explained to the gathered crowd that the group was therefore forced to hold a small public meeting instead.
Rallies were also held in the cities of Saratov, Sochi, Ryazan, Tomsk, and others.
Activists from various Russian civil and political movements have been holding Strategy 31 rallies for more than two years across the country. As a general rule, the protests are not granted sanction by local authorities and are routinely violently dispersed by riot police.
Video of the march in St. Petersburg: