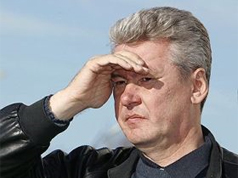 Groups of activists trying to hold demonstrations in Moscow are facing increased opposition from city authorities, with the mayor insisting that only protests consisting of many thousands of people be granted city squares and streets to do so, Kommersant reports.
"The Communists, for example, gather many people at their demonstrations, and we will close streets and squares for them. But if it's a few dozen debauchers who gather for the sake of their own scandalous behavior, then it would be illogical to close a prospect for them," Moscow Mayor Sergei Sobyanin told a roundtable of journalists on June 4.
"Many event organizers act on the logic of 'we want to hold an event only where we're not allowed to, and the Constitution does not give you the right to ban it," he added.
Sobyanin's words echoed those of Russian Prime Minister Vladimir Putin, who in December 2010 commented on protests by "dissenters," saying that "they don't want to hold events – they want a conflict with the authorities."
Human rights advocates called on Mayor Sobyanin to not make arbitrary decisions and simply to obey the law. "It wouldn't be bad for the mayor of Moscow to know that the constitution has no concept of 'scandalous behavior' or 'debaucher,'" said Moscow Helsinki Group head Lyudmila Alexeyeva.
According to Kommersant, this is the first time that Sobyanin has expressed his attitude towards large-scale demonstrations since becoming mayor in October 2010. He has previously mostly mentioned two opposition campaigns – the Day of Wrath and Strategy 31 – the organizers of which are consistently embattled by the city.
Strategy 31 demonstrations are held on the 31st date of each month in dozens of cities across Russia in defense of the 31st article of the constitution, guaranteeing freedom of assembly. For a year and a half, up until October 2010, Moscow city authorities refused to sanction the demonstrations on the centrally-located Triumfalnaya Square, and protesters were routinely beaten by police and arrested en masse. While city authorities sometimes say that the demonstrations would always have been sanctioned if organizers moved them to other locations, oppositionists insist that the alternatives proposed by the city would have rendered the protests invisible to the public.
Previously, Day of Wrath protests were held on the 12th day of each month across from the Moscow mayor's office on Tverskaya Ulitsa, intended as a venue for people to express their collective grievances against the authorities. The city never sanctioned the protests and their participants were regularly arrested by police. In February 2011, organizers decided to relocate to Teatralnaya Ulitsa, and the rally was sanctioned for the first time ever.