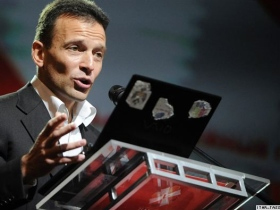 Kommersant journalist Oleg Kashin is being sued for slander after posting comments online accusing youth leader Vasily Yakemenko of being involved in an attack against him, Kasparov.ru reports.
Kashin became famous after he was beaten nearly to death outside his home in Moscow last November by two men who still remain unknown. On March 23, the journalist said on his blog that Yakemenko, head of the Russian Federal Youth Affairs Agency (Rosmolodezh) and the radical youth group Nashi, was probably involved in the attack.
"As a matter of fact, I myself don't doubt the 'Yakemenko' version, and I don't have any different ones (even the story about the stolen wife clinks with all of this – actually, I heard that Yakemenko's wife left him in November), and I don't believe that my case is that hard to solve, and the silence of the Central Investigative Committee, in my opinion, is set on just that conclusion," wrote the journalist.
On March 24, Rosmolodezh Press Secretary Kristina Potupchik called the remarks "filthy accusations against Rosmolodezh and Mr. Yakemenko." The next day, Yakemenko announced he was suing Kashin for slander.
The high-profile investigation of Kashin's beating has been notably quiet since the initial shock of the incident in November, only briefly punctuated by rumors in February that the attack had been perpetuated by an angry husband whose wife Kashin had "stolen." Kashin denied this account and continues to insist he was beaten because of his work as a journalist.
On March 24, Russian President Dmitri Medvedev was asked about the state of the investigation into Kashin's attack by writer and publicist Sergei Shargunov.
"Today I spoke with the head of the Investigative Committee about this topic… There's movement there, I don't have the right to say particular things, but there's movement," Medvedev said in response.
In addition, the president said the results of the investigation "should be presented not only to the victim, but also to the public, due to the large resonance."
Oleg Kashin was attacked on November 6, 2010. He suffered skull fractures, broken shins and his fingers were maimed; one had to be partially amputated. As Kommersant Editor-in-Chief Mikhail Mikhailin said at the time: "It is totally obvious that this was a planned action, naturally, connected with Oleg's professional work. They broke his fingers, legs; they wanted to cripple him."
Investigators reported earlier that the primary version of the motive for the attack was Kashin's journalistic activity. Analysts say his controversial articles about the Khimki Forest and various government officials could have provoked any number of possible attackers. President Medvedev reacted to the beating the very morning of attack and vowed to punish whoever was responsible for it, regardless of their status.