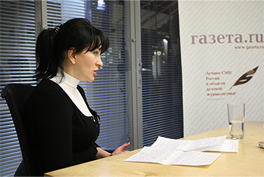 An aide to Russian Judge Viktor Danilkin, who sentenced former Yukos CEO Mikhail Khodorkovsky to 14 years in prison last Christmas, is claiming Danilkin was pressured into writing the verdict by high-level Russian officials.
In an interview published Monday by Gazeta.ru, Khamovnichesky Court aide and press secretary Natalya Vasilyeva said the pressure Danilkin was subjected to was "constant" throughout the entire trial and up through when the verdict was read. "I can say that the whole judicial community understands very well that this is a made-to-order case and a made-to-order trial," she said.
As Radio Free Europe/Radio Liberty reports:
Vasilyeva said Danilkin was summoned to the Moscow City Court on December 25, two days before he began reading the verdict, where he was to meet an "important person who had to give him clear instructions about the verdict."

On December 30, Danilkin sentenced Khodorkovsky and his business partner Platon Lebedev to 14 years in prison. The first eight years were to run concurrently with the eight-year sentences for tax evasion and fraud that the two had been serving since 2003 and which were set to finish this year.

According to Vasilyeva, unspecified top Russian officials were concerned that Danilkin's verdict would not be sufficiently harsh, "My suspicions are based on what I heard in the court corridors," she said. "I heard people who were close to the judge say that [Khodorkovsky's] verdict was written in the Moscow City Court, that it was all done in a hurry, very quickly, and that Danilkin had nothing to do with this verdict."

At another point in the interview, Vasilyeva said she knew "with absolute certainty that the verdict was brought [to the Khamovnichesky District Court] from the Moscow City Court."

In remarks reported by Russian news agencies, Danilkin denounced Vasilyeva's allegations as "slander."

Likewise, Anna Usacheva, a spokeswoman for the Moscow City Court, called the interview a "provocation" and a "well-planned PR act," in remarks reported by ITAR-TASS. "I'm certain that Natalya Vasilyeva will … renounce her comments," she said.
Speaking to Kasparov.ru, political analysts and opposition figures had mixed reactions to the interview:
Stanislav Belkovsky, political analyst:
– Now society will have no doubt that the verdict was unjust. I wouldn't rule out that Judge Viktor Danilkin himself, who wants to save his own reputation, had something to do with the interview. It's well known that Danilkin was already acutely distressed back in August 2010, because he knew then that he would have to hand down a conviction without sufficient basis for it. It seems to me that he expected decisions by the Supreme Court and the Kremlin that could have lightened pressure on him from the Moscow City Court and Olga Yegorova, but these decisions never came to be.
It's unlikely that this interview would have happened without Danilkin's sanction; I have reason to believe that he knew about it. And the fact that he's denying this now is entirely normal. Otherwise he would have had the courage to say that he was pressured himself.
Ilya Yashin, co-leader of the Solidarity opposition movement
– This is not, alas, going to have any effect on Khodorkovsky's fate. Not Danilkin, nor Olga Yegorova, nor the fact that Khodorkovsky was the head of Yukos will have any effect on his fate. The course of events can be affected only one person, and his name is Vladimir Vladimirovich Putin.
Since Khodorkovsky is Putin's personal enemy, he's going to sit in prison for as long as Putin stays in power, because there are going to be illegal reprisals against him.
Aleksei Mukhin, political analyst:
– There are two versions of what happened. Either the girl has a sense of conscience or, more likely, she wants to become famous – to become a witness of the opposition, a 'devil's advocate.' But this is a dead end. The entire state machine is going to work to make sure that this story doesn't develop. Here we're talking about chief government executives, and there could be any possible consequences.
Lev Ponomarev, leader of the movement For Human Rights:
– I see this as an extraordinary event that is going to influence the entire situation surrounding Khodorkovsky and Lebedev's conviction. Criminal charges should be filed for impeding due process. I (and possibly other human rights advocates) are going to appeal to the prosecutor's office in regards to the publication of this interview. We also need to appeal for Medvedev to take Khodorkovsky's case under his own control. Vasilyeva needs to be taken into protection. Indeed, criminal charges are going to be filed against her. Even Danilkin has promised to file charges.
A video and the full text of the interview can be found here.