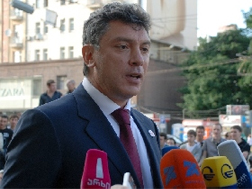 Members of a special city commission have concluded that opposition leader Boris Nemtsov did not resist police during the most recent Strategy 31 rally on Moscow's Triumfalnaya Square, Ekho Moskvy radio reported on Thursday.
Novaya Gazeta Editor-in-Chief Dmitri Muratov, who heads the special commission formed by the Public Council on the Moscow City Police, said that the conclusion was reached after reviewing videos filmed of Nemtsov's detention.
The commission is still continuing further work on the case, said Muratov. He expects that a report will eventually be produced that will lead to an investigation of the actions of police at the rally.
Nemtsov sat out 15 days of administrative arrest earlier this month after being convicted of resisting police at the December 31 Strategy 31 rally, and the commission's findings indicate that the case against him was unlawful. Since the beginning of the proceedings, the oppositionist and his supporters have been accusing the presiding judge of refusing to admit video evidence that would have acquitted Nemtsov of the charges. On January 2, he was sentenced to 15 days in jail.
Muratov later announced that he was quitting the Public Council on the Moscow City Police over the scores of detentions on Triumfalnaya Square during the rally. Following Thursday's announcement, he said he was only continuing work on the special commission.
Nemtsov commented on the commission's findings on his blog:
The commission carefully studied the Moscow city police's operation video and the video we tried to show Judge Borovkovaya and in the Tverskoy Regional Court. It turned out that the videos were the same and, after a three-hour analysis, members of the commission were left with no doubt that I had committed no violations.

This shows that my detention and subsequent arrest were illegal.

It's too bad for [Moscow City Police spokesman Viktor] Biryukov, who continues to weasel his way out of this. On December 31 and at the beginning of January he said that I tried to block Tverskaya and that I organized an unsanctioned rally, and today, when he was backed up against the wall with video materials, didn't find anything smarter to say than that he wasn't clear about everything in the materials.

It's also too bad for [President Dmitri] Medvedev, who said just today that my arrest is not political, and lies "in the judicial sphere." Dmitri Anatolievich must be aware that the only people arrested on New Year's Eve night were opposition leaders – Limonov, Kosyakin, Tor, Yashin, and myself. That alone testifies to this being a political order. In general, when the president says in the course of two days that Khodorkovsky was correctly sentenced and the arrests of opposition leaders had no political motive, that's not a president anyone's going to believe.