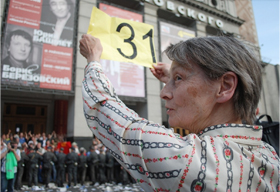 The Moscow mayor's office has gone back on its decision to sanction an upcoming opposition rally after organizers insisted on gaining permission for more protesters to gather than the city government had proposed, Interfax reports.
Organizers of the Strategy 31 campaign received permission for the first time ever on Wednesday to legally hold one of their rallies on Moscow's Triumfalnaya Square on October 31, 2010. However, the authorities stipulated that no more than 200 people would be allowed to participate. On Thursday, organizers said that they would ask the mayor's office once again to allow at least 1500 people to rally on the square.
The request did not go over well with city officials. "The government of Moscow takes note that it has received a letter from rally organizers that cannot be judged as anything other than a provocation," said a press release from the mayor's office on Friday.
The statement goes on to say that the oppositionists' letter "contains a written rejection of all variants proposed [by the mayor's office] and a demand to allow a rally to be held on Triumfalnaya Square numbering 1500 people."
Therefore, the application has been turned down altogether.
Oppositionists plan to rally on the square regardless.
"We're coming to the rally," said Eduard Limonov, leader of the Other Russia party and one of the rally's organizers. "The constitution guarantees us this right."