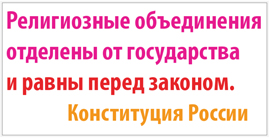 The Moscow city authorities have turned down an application from an atheist organization to erect a series of billboards quoting the Russian constitution.
Zdravomyslie, an organization that works to protest violations of the principal of the separation of church and state, filed an application with the Moscow Advertisement, Information and City Appearance Committee in September to put up ten billboards showing the quote: "Religious associations are separate from the state and equal before the law. – Constitution of Russia" against a plain white backdrop. But on October 5, the committee sent back a letter saying the request had been denied.
While no official explanation for the rejection was given in the letter, a press release from Zdravomyslie said that a member of the committee had told the foundation during unofficial talks that civil servants had found the text to be "provocational."
In their press release, Zdravomyslie goes on to accuse the Moscow city authorities of lobbying in favor of the interests of religious organizations, and links this with the committee's refusal to allow the foundation to erect the billboards. In particular, they pointed to mayoral deputy Sergei Baydakov, who has been awarded for his service to the Russian Orthodox Church. According to Zdravomyslie, Baydakov has proposed spending millions of rubles from the city budget on "state-church events."
"In this way, the current Moscow leaders are continuing the old policy of merging state government with religious institutions, setting the abstract "feelings of believers" against the letter and spirit of the nation's founding law," says the foundation. "Even innocent quotations from the text of the constitution evoke wild irritation among civil servants and are, in fact, becoming victims of state censorship."
The billboard campaign was undertaken as part of a worldwide campaign to speak out against the merging of church and state. It originated in Great Britain in 2008 when the British Humanist Association funded an advertisement on public buses that read "There's probably no God. Now stop worrying and enjoy your life." The campaign now includes countries from around the world, including the United States, Finland, Canada, Spain, and Germany.
"We aren't prepared to look on upon civil servants' gross violations of the principals of the secular state, insofar as we are certain that these principals are one of the basic guarantees of freedom of conscience and ideological diversity in our country," Zdravomyslie concluded.