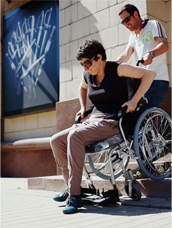 On Friday, the biweekly Russian magazine Bolshoi Gorod ("Big City") held a rally to bring attention to the daily hardships faced by handicapped persons living in Moscow – in particular, those using wheelchairs.
According to Ekho Moskvy radio, a group of well-known actors, musicians, journalists, and rights activists came together to attempt to go about several hours of their normal lives – going grocery shopping, to a cafe, or to the movies – in wheelchairs.
The event began at Moscow's Lenin Library, where the wheelchaired participants attempted simply to enter the building. This turned out not to be possible, as the library doesn't have a ramp, and it isn't possible for someone in a wheelchair to climb six steps.
The participants were also unable to use the metro, since the turnstile proved to be too narrow.
The ralliers proceeded to the Pushkin Museum, which was also impossible for the wheelchaired participants to enter by themselves. The museum staff said only that they have guards who are ready to lift handicapped visitors into the museum by hand if necessary
At one point, Bolshoi Gorod Editor-in-Chief Filipp Dzyadko attempted to enter a cafe in his wheelchair. This was also unsuccessful, due to the doorstep and narrow doorway.
Overall, participants of the rally said that curbs and awkward ramps posed the most danger to handicapped persons in Moscow.
The journal held a similar event in 2009 that elicited a sizable public response. According the Kasparov.ru news portal, city authorities began to make accessibility improvements in response – but, judging by this latest event, it's clear that much more work is needed to be done. Journalist Yasha Levine undertook a similar effort in 2007 for the Exile magazine; a lengthy photo essay of his experience can be found here. He notes that despite an accessibility law introduced in 2001 by then-President Vladimir Putin, transportation remains one of the most serious problems for the handicapped in Moscow. For example, while certain models of wheelchairs can theoretically be finagled onto the metro, there is no way for the handicapped to transfer stations.
Coverage in Russian and photographs by Bolshoi Gorod of the event can be found by clicking here.