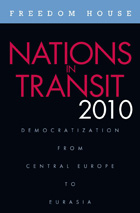 A new report issued this week by the Washington-based think tank Freedom House sheds light on what it calls a tendency towards the decline of democratic processes in the countries of the former Soviet Union, and Russia in particular.
The organization describes the annual report, entitled "Nations in Transit 2010," as a study of democratic governance throughout Central Europe and Eurasia. It covers the events of 2009 and assigns countries individual ratings based on the state of democracy in each.
In a press release issued on Tuesday, Freedom House noted that ratings in 14 of the 29 countries had worsened since the year before. It goes on to single out Russia as having "experienced the single largest overall deterioration" of democracy over the period of the past ten years.
The authors of the report cite a marked rise in corruption, pressure on the opposition, and a shrinking space for dissent as reasons for the decline.
"The Nations in Transit findings suggest that there is a deep and ongoing governance crisis in the former Soviet Union," said Freedom House Executive Director Jennifer Windsor. "The intimidation and violence used against lawyers, reporters, and civic activists in Russia and other countries in the region cast a pall over these societies and their ability to build rules-based systems," Windsor added.
In addition to democratic decline in Russia, authors of the study noted similar trends in Kyrgyzstan, Azerbaijan, Belarus, Uzbekistan and several other countries.
Russia has regularly received low marks on the state of its democratic governance from Freedom House. A report issued earlier this year gave the country a score of 6 out of 7 for political rights and 5 out of 7 for civil rights, with a higher score indicating a greater lack of freedom. The organization argues that Russia's current regime is authoritarian in nature and has become more and more oppressive over time.
According to their website, Freedom House is "an independent watchdog organization that supports democratic change, monitors the status of freedom around the world, and advocates for democracy and human rights."
The report in full can be read by clicking here.