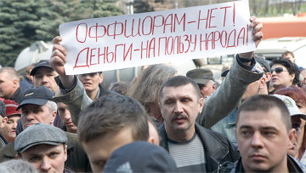 A series of protests were held throughout Russia over the weekend in support of miners demanding fair pay and better working conditions, Kasparov.ru reports.
The majority of the rallies took place on Saturday, and came in the wake of two explosions in the Raspadskaya coal mine in Russia's Kuznetsk Basin on May 8 that left 67 miners dead. In one protest, about 150 opposition activists gathered on Moscow's Chistie Prudy to stand in solidarity with the miners and demand a governmental response to their grievances. They asked for an objective investigation of the May 8 explosions, punishment for those guilty for the tragedy, and monetary compensation to miners for lost work time.
The Moscow protesters also demanded a stop to the persecution of miners and residents of Mezhdurechensk, a town close to the Raspadskaya mine where riot police arrested approximately 28 people in on May 14 during a protest made up of relatives of miners killed in the accident and their supporters. Criminal charges have been filed against some of those protesters for blocking off a railroad, a move they took out of desperation to draw attention to their grievances.
A rally meant to take place in Mezhdurechensk on Saturday, however, fell apart after an increased police presence intimidated miners into staying off the streets. Former police Major Aleksei Dymovsky, famous in Russia for his work exposing corruption in the country's police forces, had arrived in the city to support the miners. At the designated time on Saturday, he told the Kasparov.ru online news site, approximately 70 journalists came to the local government building where the rally was supposed to take place. Only an hour later, however, did ten miners arrive and tell Dymovsky that the rest of them had been frightened away from coming to the protest. The police presence, which included officers brought in from other nearby towns, dispersed the ten miners after half an hour.
On Monday, opposition leader Garry Kasparov's United Civil Front issued a press release saying that another rally in support of the Kuznetsk Basin miners would be held in Moscow on May 25. "To this day," reads the statement, "virtually none of the miners' demands have been satisfied. Despite the fact that the participants of the demonstration [in Mezhdurechensk on May 14] have been released, the criminal suits against them have not been dropped."
The organization commented on Saturday's failed Mezhdurechensk rally by noting that local police and police brought in from other areas scared the population into submission, and referred to an apparent plan by the police dubbed "The Fortress" to intentionally stifle protests.
For more on the Raspadskaya mine explosions and their aftermath:
• Who to Blame in Russia Mine Deaths? – The Wall Street Journal
• Mine Director Replaced After Rebuke From Putin – The New York Times
• Russia's mine accident relatives 'targeted by gangs' – BBC News