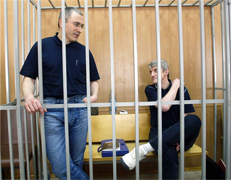 Lost among the furor over Monday's fatal metro bombings in Moscow was an unexpected development in the city's Khamovnichesky Court, where prosecutors have spent more than a full year presenting evidence in the second criminal case against ex-Yukos CEO Mikhail Khodorkovsky and ex-Group Menatep CEO Platon Lebedev. After each of the prosecution's 51 witnesses failed to testify that the accused are guilty as charged of embezzling $27.5 billion in oil products from Yukos, the prosecution suddenly announced on Monday that they had exhausted their supply of witnesses and were concluding their presentation of evidence. When the trial resumes on April 5, Khodorkovsky will finally get the chance, as he has repeatedly pledged, "to prove that I am in the right so comprehensively that nobody will have any room left for doubt."
The announcement from the prosecution came as a surprise since, aside from the fact that the case had become seemingly endless, Prosecutor Gyulchekhra Ibragimova had previously told presiding Judge Viktor Danilkin that "maybe, yes," there would be more witnesses on Monday. Even after the revised announcement, however, Prosecutor Valery Lakhtin stipulated that they maintain the right to call more witnesses at a later point in time. "This is an inalienable right of both the defense and the prosecution," he said.
Khodorkovsky and Lebedev were both convicted on controversial charges of fraud in 2005, and have been sitting in prison ever since. In the current case, the two are charged with embezzling all of the oil produced by Yukos between 1998 and 2003 and profiting from its sale. Since the beginning of court hearings on March 9, 2009, prosecutors read out chosen passages at length from the hefty 188-volume case, not calling their first witness until the end of September. But neither that witness nor any of the proceeding 50 others testified to having any knowledge that any oil had been stolen at all.
The defense, meanwhile, has a list of 250 witnesses that it would like to call to court. Chiefly among them is Prime Minister Vladimir Putin, who is widely believed to have personally ordered the original case against Khodorkovsky. In an interview earlier this month with the British newspaper The Independent, the former Yukos CEO issued a series of questions that he wants Putin to answer under oath. Regardless of what witnesses the defense ends up successfully bringing to court, Khodorkovsky is expected to testify first. Lebedev, in his turn, has said that he will be the last.
Compiled from reports by Gazeta.ru.