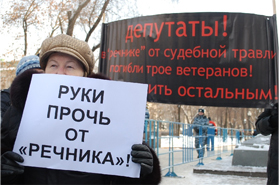 Residents of the Moscow Village of Rechnik are appealing to the European Court of Human Rights in Strausborg with allegations of genocide, following the deaths of 12 elderly residents since city-ordered demolitions of their houses began in late January.
According to Rechnik resident Yury Kladov, the causes of death were all directly related to the constant psychological pressure and fear resulting from the violent destruction of their homes. Before passing away, he says, some of the elderly blamed the Moscow government directly for their impending deaths.
On this basis, Kladov asserts, the residents have reason to accuse the authorities of genocide.
The demolition of several dozen houses in the small Moscow village began on January 21, after a court ruled in favor of a claim by the Moscow government that the houses were built illegally. Residents maintain that the Soviet-era buildings fall under a "dacha amnesty" program that was implemented for other similar villages. Rechnik, they say, was simply forgotten, and charge that authorities now want to use the area's prime real estate to build luxury villas.
Two Rechnik residents were hospitalized and 25 detained on January 21 after attempting to block demolition teams from reaching their homes. Since then, the village has employed a variety of measures to call attention to their plight, blocking traffic on Moscow's main roads and appealing to the United States and Germany for refugee status. Sixty-four resident veterans have appealed to the Federal Veterans Council for support.
At a rally on Monday in central Moscow, Rechnik residents were joined by activists from a multitude of rights and opposition groups, burning a portrait of Moscow Mayor Yury Luzhkov and calling for him to resign.
Sergei Udaltsov, activist and coordinator of the Left Front political organization, told the approximately 200 people gathered that the consequences of the demolitions in Rechnik stretch far beyond the village itself. "If they go to Rechnik today, then tomorrow they can go to any other Moscow neighborhood and evict us from our homes," he said.
As of Tuesday, 22 Rechnik houses have been torn down, with at least another 15 slated for demolition.