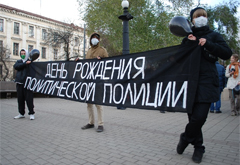 Officials from the Russian Interior Ministry's notorious Center for Extremism Prevention (Center "E") stormed two apartments owned by members of the banned National Bolshevik Party in Moscow on Wednesday, reports Kasparov.ru.
According to National Bolshevik member Sergei Yezhov, Center "E" officials attempted for several hours to enter an apartment on Volgogradsky Prospect, but the residents refused to open the door as the officials would not state the purpose of their visit.
Present in the apartment at the time was National Bolshevik and member of the executive committee of the Other Russia coalition Sergei Fomchenkov, and National Assembly deputies Taisiya Osipova, Margarita Filippova, Mikhail Klyuzhev, Nikolai Medvedev, and Maksim Gromov, as well as an infant child.
The apartment is currently undergoing a search.
A second apartment owned by Aleksandr Averin, press secretary for National Bolshevik leader Eduard Limonov, was broken into by Center "E" officials that same afternoon.
Officials detained Averin and his apartment is also currently being searched.
Gromov had arrived in Moscow to attend a meeting with Heidi Hautala, chairman of the European Parliament's Subcommittee on Human Rights. He stated that the legitimacy of the activities of Center "E" was to be a topic of discussion during the meeting.
The Center for Extremism Prevention is accused by Amnesty International of stifling dissent from journalists and activists under charges of extremist activity; a 2009 report cites accusations of torture to extract confessions from criminal suspects. In November, members of the opposition Solidarity movement obtained an internal memo indicting Center "E" in the illegal detentions of a number of activists. Solidarity leaders are planning to use the document in a criminal suit against the center.