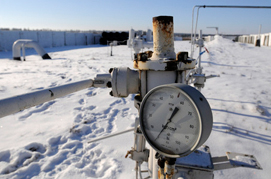 As the cold winter months set in, Russia has renewed threats to cut off gas to Europe if Ukraine begins to illegally siphon supplies.
In a statement on Wednesday, Prime Minister Vladimir Putin said that theft of unpaid energy resources would result in a supply cut for the rest of the continent, which receives much of its gas through pipelines crossing Ukrainian territory. "If they pay us for supplies for domestic consumption, they'll get them," he said. "If they don't pay…they won't get them. If they don't get them, likely, there will be siphoning from the export pipeline," in which case the supply would be cut entirely.
The prime minister also stated that the controversial South Stream pipeline proposal, which would channel gas supplies through the Black Sea, would be able to "discipline" Ukraine.
At the beginning of November, Prime Minister Putin warned the Swedish government, currently presiding over the European Union, of possible problems with transit of energy resources to European consumers through Ukrainian territory. According to Putin, Ukrainian Prime Minister Yulia Tymoshenko blamed Ukrainian President Viktor Yushchenko for deliberately hindering gas payments to Russia despite being able to pay. Putin also cited Kiev's gold reserves and statements from the International Monetary Fund as proof that Ukraine is not lacking in available funds.
Millions of consumers in Europe were left without gas for two weeks last winter when Russia followed through on a threat to cut supplies, blaming Ukraine for siphoning gas when their own supply was cut due to unpaid fines.