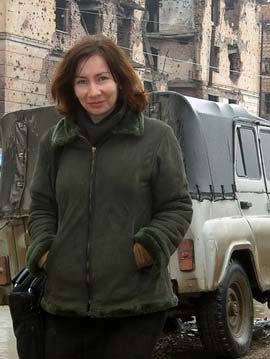 On her Ekho Moskvy radio program, commentator Yulia Latynina spoke at length about the murder of rights activist Natalya Estemirova in Chechnya.  Latynina, who worked together with Estemirova on reporting rights abuses in the North Caucasus republic, was incredulous that an official investigation would find her killers.
Estemirova's death is already having drastic consequences for the human rights community in the Northern Caucasus, as the Memorial rights group announced it would likely be closing its office in Chechnya.
Read more about the tragic murder from The Sunday Times (UK), and the New York Times.
Translated text follows.
—
Yulia Latynina – Access Code radio program
Ekho Moskvy Radio
July 18, 2009
"The most dreadful event of not only the last week but probably the last few years is Natalya Estemirova's murder in the Caucasus. I think it is no exaggeration to say that Natalya Estemirova was the Memorial human rights centre in Chechnya. She is a person through whose hands passed the entire information about the horrors taking place in Chechnya. Anna Politkovskaya always stayed at her house. I think Anna would have been only glad to quote Estemirova in her publications, but it was too dangerous. And now, post factum, when Natalya is dead, we can say that a great deal of what Anna wrote was what Estemirova had told her.
"After Anna's death, Estemirova published in Novaya Gazeta under an assumed name. By the way, on Monday (20 July) we (Novaya Gazeta) will publish a collection of Estemirova's articles under an assumed name. But all we know about abductions, about burnt down houses of militants' families, all this was reported by Estemirova. After Estemirova's death, there will be no sources of information about what is happening in Chechnya that would be an alternative to the official point of view.
"Estemirova's death completely changes the entire situation in the Caucasus, because it is one thing when militants' houses are burnt down, but is another thing when a human rights activist who talks about it is killed. The former may be explained by political necessity, the latter can never be explained by anything.
"At the funeral of (murdered human rights lawyer) Stanislav Markelov, whom Estemirova knew well, both Memorial head Oleg Orlov and Novaya Gazeta's editor-in-chief Dmitriy Muratov pleaded with her to leave Grozny. She refused. I'm saying this because now the Prosecutor-General's Office cannot find evidence that there were threats against her. Well, apparently Muratov and Orlov were mad at that moment.
"Natalya Estemirova was abducted at 0830 in the morning of 15 July. She was snatched by people in a white Zhiguli car, who apparently did not know her because, according to eyewitnesses, she was being followed by a woman who reportedly pointed to Natalya.
"There is a bruise on her body – she was grabbed by the shoulder, and a bruise on her face – she was hit in the face. Her wrists were cuffed. She was taken though several checkpoints, including the main checkpoint Kavkaz. It looks like the people who were transporting her produced some service ID cards, thanks to which they were allowed to pass the checkpoint easily. They not only took her through the checkpoint easily but also moved her to another car. Because she was abducted in the white Zhiguli car, while the road in the area where she was killed, near the village of Gazi-Yurt, is so muddy that it must have been a jeep, something like Niva. She was killed where she was dumped, not far from the road, by two lethal shots in the chest and an insurance shot in the head.
"I'm saying this because investigators from the Investigations Committee under the prosecutor's office are now telling us that they have already established that Estemirova was being kidnapped, but when the kidnappers saw police beacon lights on the Kavkaz highway, as someone else was shot there, they panicked. Well, the killers were not afraid of the checkpoints, but once they saw beacon lights – that's a rare thing, a police beacon light on the Kavkaz highway – they panicked right away. This alone is enough to say that the investigation is telling obvious lies. It seems that soon we will be presented with some dead militant who had killed Estemirova, or a warrior from the (disbanded) Vostok battalion, or a saboteur sent by (Georgian President) Saakashvili. But I don't think anyone will believe that.
"By the way, about theories: Deputy (Interior) Minister Arkadiy Yedelev, who told us a week ago that Georgian militants were fighting in the (North) Caucasus, has already voiced several theories of Natalya Estemirova's murder. One of the theories was stunningly brilliant – she was robbed. You see, she had a lot of money from Western grants, she was scavenging around Western embassies like a jackal, and she was robbed. However, even her mobile phone was not touched by those strange robbers who abducted her at 0830 and already killed her by around 1000, quite far from where she was abducted, after taking her through checkpoints. This is one theory Yedelev has. According to another of his theories, militants did it. Right, I can easily imagine militants, who are currently cornered in Ingushetia's forests, whose situation is really difficult, under permanent bombardment, sneaking out of there, obtaining some federal ID cards, going to Grozny and killing the only person in Chechnya who had been protecting their relatives whose houses are burnt down. It is strange that Yedelev, when talking about his theories, forgot about the Georgian militants he had mentioned earlier. Maybe it was they who killed Estemirova, Mr Yedelev?  How could you forget?"
translation by BBC Monitoring.