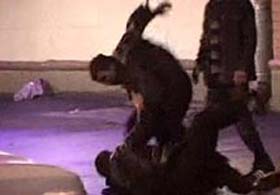 Sergey Protazanov, a newspaper worker for the opposition Grazhdanskoe Soglasie newspaper in the Moscow suburb of Khimki, died Monday in his home.  According to colleagues and friends, he was violently attacked the day before, the Gazeta.ru online newspaper reports.  Police, meanwhile, blamed Protazanov's death on either poisoning or overdose.
"He died after a brutal attack which took place during the weekend," said Alla Chernysheva, an activist  leader in a local environmental movement.  According to Chernysheva, Protazanov was attacked from behind and hit in the head, knocked to the ground, and kicked repeatedly.  Protazanov, who is disabled, was then hospitalized and released the next day.
Anatoly Yurov, the editor of Grazhdanskoe Soglasie, said Protazanov worked there as a layout designer and reporter, and had called him from the hospital after his attack.  "On Sunday during the day, a stranger called Protazanov's wife and told her that her husband was lying in an entranceway on Yubileynaya ulitsa," Yurov said.  "His relatives came to get him and saw that he had been beaten, was covered in blood and bruises.  An ambulance took him to the hospital, he was given a shot and released."  On Monday, Yurov said he called Protazanov in the afternoon and offered to drive him to the hospital.  The designer admitted he was feeling ill, but said he wanted to rest at home.  He died within three hours.
Law enforcement investigators, meanwhile, asserted that Protazanov had died as result of alcohol poisoning or a possible overdose on painkillers.  "Protazanov's body was found on Monday, March 30th without any trace of a violent death, by his wife and parents," the Moscow police press-service said.  "A forensic medical investigation has not yet been completed, but the preliminary cause of death is deemed poisoning."
Police added that they found pain medication in Protazanov's apartment, and asserted that he had started drinking heavily a week before his death.  Relatives and colleagues disputed the claims, explaining that Protazanov took medication as result of a long history of headaches.
"The theory of poisoning is complete rubbish," Yurov told the BBC. "It was murder. If a person is beaten up in such a way that he died then it is murder."  The editor said he suspected that Protazanov was not robbed, and was attacked for his work.  Yurov said the designer was working on an issue with a story on electoral falsifications in the northern Moscow suburb.
According to the ITAR-TASS news agency, a police spokesman said that bruises found on Protazanov's face and head had nothing to do with his death.
Protazanov is not the first person involved in opposition politics to be attacked in Khimki.  Mikhail Beketov, the editor-in-chief of the Khimkinskaya Pravda newspaper, remains in a coma after he was jumped on November 13th.
According to Yurov, a total of six journalists have been violently assaulted in Khimki in the last two years.