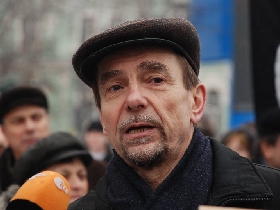 Lev Ponomarev, one of Russia's leading human rights champions and leader of the "For Human Rights" movement, is recovering in Moscow after he was attacked late on Tuesday.  As the Ekho Moskvy radio station reports, Ponomarev, 67, was jumped by three unknown assailants.  Yevgeny Ikhlov, co-chairman of "For Human Rights," said Ponomarev was in serious condition.
According to Ikhlov, who first heard the news from Ponomarev's wife, the assailants silently approached Ponomarev and started kicking him.  It was not clear whether there had been any attempt at a robbery.
A report by the Kasparov.ru online newspaper said an ambulance and police were called to the scene.
Ponomarev's family and colleagues connected the attack with Ponomarev's decades-long human rights work and activism.   According to the Kasparov.ru, Ponomarev became aware that he was under surveillance late last year.
Ponomarev was returning from a meeting with Sabine Leutheusser-Schnarrenberger, a representative from the Parliamentary Assembly of the Council of Europe (PACE).  The German delegate, who works extensively with human rights issues, was in Moscow to conduct research for a report on political repressions in Russia.  Leutheusser-Schnarrenberger earlier worked as the PACE special rapporteur on the case against executives from the YUKOS oil company.
Citing Moscow police, Interfax reports that the attack took place near Ponomarev's home in Novogireevo.  "According to preliminary findings, the human rights activist was attacked by two unknown persons," a police spokesman said.  "We have not yet been able to identify the attackers."
Lev Ponomarev is one of Russia's best known human rights activists, and has been involved in countless rights cases and organizations over an extensive career.  Ponomarev was a founder of the Memorial human rights society, and serves as a member of its operational board.  He also founded the Common Action rights group, and serves as a federal board member of the Solidarity opposition movement.  He has been critical of the Russian prison system and what he called the roll-back of rights under former President and current Prime Minister Vladimir Putin.
Ponomarev joins a long list of civil activists and members of the political opposition who have been attacked or killed in recent years.  The attackers are rarely found, and most of the crimes remain unsolved.
(alternate spelling: Lev Ponomaryov)