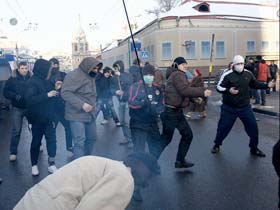 Thousands of opposition demonstrators took to the streets across Russia Saturday, in a series of protests dubbed a "Day of Dissent."  In Moscow, preliminary reports from the Sobkor®ru news agency said that around 50 people had been arrested.
Protestors in the capital braved freezing temperatures, carried placards, and railed against the Russian government's response to the economic crisis.  Demonstrators called on the government to resign.
Small pickets took place around Moscow, starting in South-eastern part of the city.  Early in the day, members of the banned National Bolshevik party lit flares and waved flags near the Vykhino metro station, close to where a 20-year-old activist, Anton Stradymov, had been beaten to death on January 14th.
Later in the day, National Bolshevik leader Eduard Limonov was arrested in the central Triumfalnaya Ploschad (Triumph square).  Limonov had walked into the square carrying a copy of the Russian constitution, referring to it to its guarantee to freedom of assembly.  The opposition leader, who was surrounded by guards and supporters, was then pulled from the square and arrested by OMON riot police.  A number of Limonov's supporters, who chanted "We need another Russia," and "Russia without Putin," were also detained.
Around 250 members of Garry Kasparov's United Civil Front (UCF) and the Solidarity opposition movement rallied on Ulitsa Bolshaya.  Masked men with metal rods came from behind the demonstrators and attacked the group, grabbing at banners and injuring several of the protestors.  The attackers, who were untouched by police, then drove away in waiting cars.  UCF activist Aleksei Kazakov, who had a bloodied face and nose, continued marching and eventually called for an ambulance.  Fellow demonstrators waiting with Kazakov were subsequently arrested by police.  The protestors suspect the attackers were members of a pro-Kremlin youth movement, Young Russia.
A separate protest put on by the Russian communist party brought out around 1000 participants in Moscow, who called for a return of the centrally planned Soviet economy.
Several thousand pro-Kremlin youth rallied in a different part of the city in an effort to back the government's anti-crisis measures.
In other parts of Russia, people also took to the streets to protest rising prices and what they call a poor government response to a rapidly slowing economy.  Demonstrations took place in St. Petersburg, Komsomolsk-on-Amur, Yekaterinburg, Kaliningrad, Blagoveshchensk, Omsk, Vladimir, Nizhny Novgorod, Khabarovsk, Novosibirsk, Penza, Voronezh, Tomsk and Orel.
In the far-eastern city of Vladivostok, over 2000 people marched over 5 km (3.1miles) in protest of higher import duties on foreign used cars.  Imports of foreign autos from Japan and Asia have dropped by 95 percent since the new duties took effect.  The demonstrators called for the resignation of Prime Minister Vladimir Putin.
Throughout the day, the United Civil Front, the Kasparov.ru online opposition newspaper and other human rights groups reported that their telephone lines were under attack.  Reaching rights lawyers and reporting what was happening was impossible, the groups said.