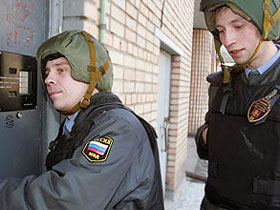 Ahead of a series of protests put on by opposition groups in Russia, authorities have ramped up efforts to intimidate activists around the country.  The following round-up is a just a small slice of the pressures exerted daily on people who want to publicly voice their minds in Russia.
Sochi – Activist hospitalized after attack
Lyudmila Shestak, a social activist in the Black Sea town of Sochi was attacked outside her home on January 28th.  Shestak, a member of the Sochi branch of the Russian Geographical Society, told the Sobkor®ru news agency that she was in the hospital with neck and head injuries, and that she had been treated for a concussion of the brain.  The activist connected her attack with an upcoming protest meeting, set to take place in the resort town January 31st.  She said her purse and belongings were not taken.
Shestak has taken an active role in defending land-owner rights and other issues surrounding the 2014 Winter Olympics, which are set to take place in Sochi.
Moscow – Officer receives anonymous threats
Sergei Mozgovoy, president of the Freedom of Conscience Institute and a captain in the Russian Naval Forces, has been receiving anonymous threats not to take part in an opposition demonstrations on January 31st.  The officer described the threats on January 30th to the Sobkor®ru news agency.
An unnamed man has called Mozgovoy for several days, warning him not to lead officers to the "March of Dissent," cursing at him, then hanging up.  Mozgovoy speculated that the calls could be coming from local police, who had taken down names and information from officers arrested at a previous demonstration.
The Other Russia will stage a "Day of Dissent" on January 31st in Moscow.  Events will also take place in St. Petersburg, Voronezh, Orel, Tomsk, Penza, Omsk, and other cities.
In a separate case, police visited a man mistakenly arrested at an earlier "March of Dissent."  Dmitri Myshkin, a resident of the Moscow suburb of Khimki, explained what happened to the  Sobkor®ru news agency.
Myshkin said he had never intended to protest, but was arrested on December 14th, when police were indiscriminately detaining pedestrians at a March of Dissent.  His arrest was ruled unlawful on January 16th.
Myshkin said three officers came to his door on November 30th and advised him not to take part in the Day of Dissent on January 31st.
Tyumen – Opposition activists arrested
A number of opposition activists have been arrested in the central Russian city of Tyumen ahead of protests scheduled for January 31st.  As the Kasparov.ru online newspaper reports, Andrei Kutuzov, a professor at Tyumen University and journalist Rustam Fakhretdinov are among those detained.  According to the newspaper, a total of seven people have been arrested in the city, and several have not been charged with any crime.
On Thursday morning, Kutuzov was visited by officers from an anti-extremism unit who searched his home and seized his computer.  Agents also searched the home of his parents.
Later in the day, Fakhretdinov was charged with vandalism, and his home was also searched.  Police took paints, stencils and literature, as well as painted banners with slogans calling for the defense of human rights.
Friends of the arrested men said their detention was most likely an attempt to keep them from demonstrating on January 31st.
Novosibirsk – Activists placed under administrative arrest
In the eastern Russian city of Novosibirsk, police are rounding up the organizers of a demonstration put on by the Association of Active Citizens of Russia (TIGR).  The group, first formed to bring together car lovers opposed to new import duties on foreign autos, plans to hold a rally on February 1st.  Sergei Kononov, who filed paperwork to register the protest, was arrested from his home on January 28th, and is being held under administrative detention, according to the group's press-agency.
City officials have not sanctioned the group's demonstration.  Organizers say they have been ignored, and have pledged to hold a protest regardless.
Aleksei Umerenko, another organizer, was arrested on January 22nd, and sentenced the next day to 10 days administrative arrest.  His charge was the same as Kononov's: failing to pay an administrative fine by the deadline.
Another of the group's leaders in the far-eastern city of Khabarovsk, Andrei Dudenok, was sentenced to 12 days administrative arrest for identical charges on January 22nd.
TIGR has called the arrests "political," saying they were intended to throw their upcoming demonstrations.