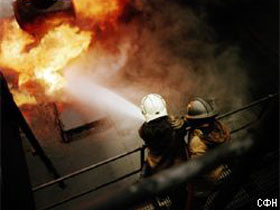 Fire struck Russia's far-eastern city of Vladivostok Saturday, leaving one dead and ravaging the editorial offices of a local opposition newspaper. As the RIA Novosti news agency reports, citing fire officials, the Arsenevskie Vesti newspaper's offices were badly damaged in the fire.
"The fire was reported to the operator on Saturday at 21.20 local time," a spokeswoman from the Primorsky Krai emergency response ministry said. "Firefighters arrived at the scene of the emergency in four minutes. At that time, one of the second-floor rooms of the editorial offices was engulfed in flame, and a second was filled with smoke. In the burning room, the body of a deceased editorial staff person was found. In the course of 50 minutes from the moment firefighters arrived, the fire was localized, and at 23.25 local time, it was extinguished."
An investigation into the fire and death has been launched, the spokeswoman said.
The Arsenevskie Vesti newspaper is considered an independent and opposition news source, and frequently publishes investigative articles concerning corruption, abuse of office and improper use of budgetary funds among local officials.
Editor-in-chief Irina Grebneva told the Sobkor®ru news agency that the dead staff member was Vyacheslav Zakharchuk, who worked in the advertising division.
Grebneva did not exclude the possibility that arson may have caused the fire. The paper has published critical stories, she said, and has been in opposition to local authorities for many years. Several year ago, Grebneva and journalist Nadezhda Aslimchik were charged for publishing an article and visual collage concerning former Primorsky Krai public prosecutor V. Vasilenko, the editor said. As result, Grebneva was temporarily confined in pre-trial detention.
On November 7, 2008, the paper received a warning from local prosecutors for allegedly publishing extremist materials. The article in question was a reprint of a statement first published on Ingushetiya.ru, concerning the death of Magomed Yevloyev, an Ingush opposition leader killed while in police custody.