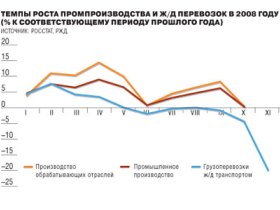 Even as indicators show that Russia is entering a severe economic downturn, state owned media and television have remained silent on the crisis. As the German Die Welt newspaper reports, many Russian media sources have refrained from describing a negative outlook for Russia.
Pressure to report positive news comes from many sources.
Yevgeny Gontmakher is a sociologist who wrote a newspaper article theorizing that the global financial crisis could bring about social unrest. After the column appeared, the national media regulatory body approached the paper and suggested they not print extremist materials.
"This is censorship," said Gontmakher, who heads the Academy of Science's Social Policy Center. "The situation in the country is changing; you can no longer utter the word 'crisis'."
Journalists allege that the Kremlin is using its controlling role in the media to hide the truth of the economic situation from ordinary Russians.
One reporter told Die Welt that editors at a major Russian newspaper advised writers to remain cautious when reporting on the impacts of the crisis.
"It comes from the top, via the meetings the top editors have with the government and the Kremlin," said the reporter, who asked not to be named for fear of losing his job.
"The reasoning is to prevent panic from spreading inside Russia. We can still report on the crisis but we have to be very careful of how we term things, so it is a way of reporting rather than an outright ban."
While authorities have taken some action to combat the crisis, including measures costing more than $200 billion, they have painted a rosy picture for the public, and have not allowed public discussion on the airwaves.
The trend is most noticeable on the three state-run television channels, where the financial crisis is discussed mostly as a foreign and US problem. The majority of Russians watch television as their primary news source.
Garry Kasparov, a leader of the United Civil Front opposition party, explained what he saw:
"It's amazing. You don't hear anything about the crisis," Kasparov told Reuters. "It is a total virtual reality. There is a crisis in America, the United Kingdom, (but) Russia?"