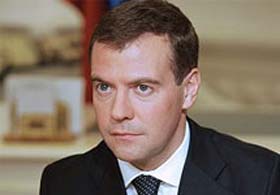 Faced with plummeting oil prices and tax revenues, Russia is seriously considering joining the Organization of Petroleum Exporting Countries (OPEC), or working with the oil cartel to cut world output. Russian President Dmitri Medvedev, speaking at a meeting on socio-economic development of the Urals Federal District, explained what Russia could do to raise world prices.
"I would like to say that we are prepared for this ([joining OPEC])," Medvedev said. "We must defend ourselves, since this is our revenue base, both from oil and gas. These kinds of defensive measures could be tied to lowering oil production, and participating in the existing suppliers organization, and participating in new organizations, if we can come to an agreement beforehand, so to speak."
"I believe that we can't exclude any options for ourselves. Let me say this again – this is an issue of our country's revenue base, an issue of her development, and we cannot be ruled by any abstract criteria, by recommendations of other international organizations, and so forth. These are our national interests. We will proceed as we see fit," Medvedev said.
Russia has been flirting with OPEC cooperation, but the latest announcement was particularly strong. While Russia has not previously joined OPEC in cutting production output, a continued period of low oil prices could have devastating consequences for Russia's federal budget. In November, the budget went into deficit for the first time this year, as oil prices dipped below $40 per barrel. Russia's 2009 federal budget relies on oil prices of around $70 per barrel to remain balanced.
The next meeting of OPEC will take place in the Algerian city of Oran on December 17th. Cooperation with Russia is one of the items on the agenda.
The response in the market was visible. Expectations of massive cuts to production by OPEC and Russia sent oil prices higher, closing up several percent to around $45 per barrel.