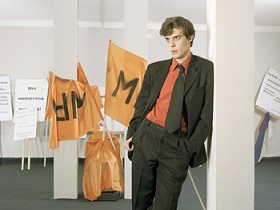 The leader of a Russian opposition youth movement has revealed a well-funded smear campaign intent on tarnishing the reputation of several Russian journalists and opposition figures. Roman Dobrokhotov, who heads the We movement, describes in his LiveJournal blog (Rus) how he was approached and offered money in exchange for damaging information against well known public figures.
The effort started simply. Contacting classmates and friends through online social networks and the internet, a woman named Inessa Lanskaya offered 20,000 rubles (€585 or $740) to anyone with dirt on a number of people, including Garry Kasparov, Ilya Barabanov, Aleksei Venediktov, and Dmitri Bykov. Lanskaya was looking for kompromat, a Russian term meaning "compromising materials" aimed at ruining the target's political or professional reputation.
Dobrokhotov decided to go along with Lanskaya, recording all of their interactions and eventually feeding her false information about his acquaintances.
"Everything started with one letter, which I received on October 17th," he writes. "'Good afternoon Roman Aleksandrovich. I like your movement, and what you do. I have a question for you. I remember at the start of the year there was an action against the Kommersant publishing house and journalist Yulia Taratuta in the center of Moscow, and I'm very interested in any information about this woman. Could you help me? Inessa Lanskaya.'"
Taratuta was one of the targets attacked by unidentified pranksters in May, when toilet paper rolls bearing the logo of the Kommersant newspaper, as well as the journalist's phone number were distributed in Moscow.
Dobrokhotov answered that Yulia Taratuta was a good journalist. Lanskaya replied more directly the second time: "I need information about her, for money, naturally. I am also interested in journalist Ilya Barabanov."
Wanting to learn more, Dobrokhotov promised to help, and asked casually if there was anyone else that Lanskaya was interested in. The list of targets eventually widened to Aleksei Venediktov, Garry Kasparov, Dmitri Bykov, Yulia Taratuta, Ilya Barabanov, Mikhail Fishman, Mikhail Rostovsky, and Natalia Galimova.
The opposition leader then met with Lanskaya and another woman named Lyuda, recording their conversation with a dictaphone. Presenting himself as the leader of the We democratic youth movement, Dobrokhotov told the women that he "knew Ilya since childhood." He then fibbed that Barabanov had recently taken to abusing psychedelic drugs, particularly the Lafaforia mushroom.
In truth, there is no such thing as a Lafaforia mushroom, which is in fact a reference to a made-up substance from Russian entertainer Sergey Kurehin, which corrupted the scientific name for the peyote cactus, Lophophora williamsii . It should also be noted that Barabanov was in on the joke.
Dobrokhotov then told his audience that Barabanov had insider sources in the Federal Security Service (FSB). The two women pressed him on the topic.
Speaking about Yulia Taratuta, the We leader misinformed his interviewers once again, telling them that the journalist published in the Moskovsky Komsomolets newspaper under the pseudonym of Rechkalov. He also disclosed a potentially shocking bit of news: "[Journalist] Yevgenia Albats is actually an employee of the Federal Security Service information division."
Inessa and Lyuda were apparently pleased with the interview, and pressed Dobrokhotov repeatedly to take an envelope full of money. After several tense moments, he managed to refuse, wriggling out of the situation by explaining that he felt unsafe at their location and asking to meet another time in the metro. The two women told him that the information he gave them would be published after they finished interviews with other sources, and completed research on the people on their list. They did not mention which publication the article would appear in, but offering more money to anyone Dobrokhotov referred to them.
Dobrokhotov later found out that the provocateurs had been seeking out Barabanov's classmates through the Moi Krug (My Circle) social networking website. Barabanov confirmed this on his blog, adding that the intense search for sleaze had been going on for several months.
If the search for kompromat is as wide as it appears from Dobrokhotov's account, those pursuing it have notably deep pockets. "Of course, even journalists from propagandistic publications do have that kind of money," he writes.
As the youth leader points out, the names on the target list have little in common, aside from having been critical of pro-Kremlin youth movements like Nashi and the Young Guard. "Possibly, revenge was being planned from their side," he told the Sobkor®ru news agency.
Theses groups are funded directly by the presidential administration and foundations linked to Russian authorities. Their involvement would mean that Russia's government was funding the smear campaign, directly or indirectly.
—
Video and audio recording of the exchange are available on Dobrokhotov's blog (Rus), which also includes a complete transcript. Anyone who recognizes the two women is asked to help identify them.