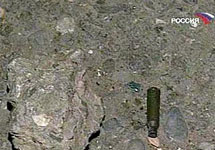 Abdullah Alishayev, a Russian television reporter in the North Caucasus republic of Dagestan, died early Wednesday morning from gunshot wounds sustained the night before. As the Interfax news agency reports, Alishayev was attacked by armed gunmen as he sat in his car in Makhachkala, the Republic's capital.
The journalist, who hosted a number of programs of TV-Chirkey, a popular Islamic channel, was highly critical of Wahhabism, a form of Islam dominant in Saudi Arabia. He was also well known for a documentary titled "Ordinary Wahhabism." Authorities are investigating whether his death is connected with his professional work.
Alishayev is the second media worker to be killed in Russia's Caucasus regions in the past three days. On Sunday, the owner of an independent news website was killed while in police custody in Ingushetia. Another journalist and editor, Miloslav Bitokov, was hospitalized after he was assaulted in Nalchik, in the Kabardino-Balkar Republic.
Russia has been ranked as one of the world's most dangerous countries for journalists by the Committee to Protect Journalists. According to the Glasnost Defense Foundation, another group which monitors press freedom in the country, more than 220 journalists have been killed in Russia since 1991.