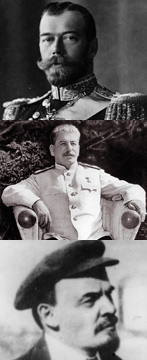 An ongoing contest sponsored by Russia's state-run Rossiya television channel has come back online after being temporarily suspended for technical reasons. Titled "Name of Russia: Historical Choice 2008," the competition asks ordinary Russians to vote for the most significant people in national history. So far, tsar Nikolai II stands in the lead, followed closely by Joseph Stalin.
Initially, some 500 politicians, public figures, spiritual leaders, scientists, artists, writers and other notables were put forward as candidates. Votes were then cast for the top 50 names on the contest's website. So far, over 2.75 million votes have been recorded, although gauging the actual number of participants is difficult, since users may vote multiple times.
Starting in September, the top 12 "finalists" will be reviewed on the Rossiya channel. A final public vote will then take place in December.
An early lead was taken by Joseph Stalin and Vladimir Lenin, with some sources claiming that organized online flash-mobs propelled the communist leaders into the top positions. After two weeks in the lead, Stalin was overtaken by tsar Nikolai II on July 15th, after competing groups staged their own flash-mobs. Musician and actor Vladimir Vysotsky and Peter the Great round off the top five.
The project's chief executive producer, Alexei Golikov, downplayed the significance of the contest. "This is not a referendum," he told Interfax, "this is an entertainment project with no political component."
Still, some groups were anxiously awaiting the results. The St. Petersburg branch of the Communist Party has pledged to appeal to the Moscow Patriarchate and ask the Stalin be canonized, should he take first place in the contest. Sergei Malinkovich, the leader of the branch, spoke with the British Times newspaper:
"If he wins, we will ask the Russian Orthodox Church to consider canonizing Stalin. Lenin was a Communist for the Church, but Stalin was a real national leader. For us, he is like Napoleon is to the French."
The move may be little more than an empty gesture.  Stalin, who ordered the demolition of hundreds of Orthodox churches, is an unlikely choice for canonization by the Church.
—
The contest is co-sponsored by the Russian Academy of Sciences' Institute of Russian History and the Public Opinion foundation. For more information, visit the competition's website (Rus).