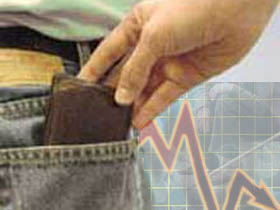 Consumer prices in Russia have grown by 7.2% since the start of the year, RIA Novosti reports, citing figures from Russia's federal statistics service. In the same period of 2007, inflation was just 4.5%.
The numbers suggest that inflation is becoming worse, and that prices growth is accelerating. In May alone, consumer prices are expected to grow by more than 1%. The largest price hikes were seen in food products, including sugar, rice and flour.
It was earlier reported that President Vladimir Putin's government was not planning to take major steps to battle inflation, in an attempt to maintain strong economic growth. Responsibility for inflation has been entrusted to Russia's Central Bank.
The Russian Ministry of Economic Development and Trade has also continued to raise its inflation forecasts. In April, the agency upped their predicted rate for 2008 to 9.5%. Currently, that same forecast has grown to 10.5%.
Many economists are skeptical that the Ministry is adequately gauging inflation, and predict that the actual rate will be closer to 15 or even 20%.