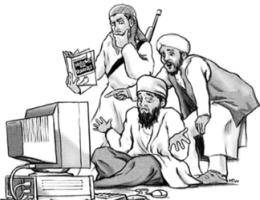 Russian prosecutors are under the impression that the internet is simply too free, and have asked lawmakers to put strict controls on internet content. As the Kommersant daily newspaper reported on April 11th, the Prosecutor General's Office has sent in draft amendments to Russia's lower house of Parliament, the State Duma. The text, in part, suggests rigid new standards for holding websites accountable, and asks for increased government control of religious education programs in an effort to fight racist and nationalist crimes.
The greatest number of punitive measures are directed at the internet, and the Prosecutor General's Office has prepared a number of draft amendments to the current law against extremism. According to the draft legislation, if any kind of material, or any site, is deemed extremist by a court, access to the material must quickly be blocked. Any website found guilty of repeatedly hosting extremist materials will be shut down. A list of extremist internet-materials and sites must be regularly published, and internet providers will be obligated to stop hosting these sites within one month.
A draft law for regulating the internet began circulating in the State Duma's Security Committee on April 10th. The law sets norms for how to classify extremism on the internet:
"Materials located on Internet websites are recognized as extremist by a federal court upon discovery, or by finding the individual or organization who posted them [guilty], on authority a prosecutor's notice or by a corresponding [court case]."
Critics believe that defining what constitutes "extremism" presents a slippery slope, and may give authorities a new lever for censoring politically unpopular information. In recent months, similar laws against "extremism" have been used to shut down and raid the offices of human rights groups and NGOs operating in Russia.
Some lawmakers were uncertain that curbing information on the internet was even technologically feasible. "We tighten the screws and the situation only gets worse," said Gennady Gudkov, the deputy chairman of the State Duma Security Committee. Others critics believe that law enforcement agencies already have the means to shut down internet providers, and pointed at an April 4th incident, when St. Petersburg prosecutors ordered the closure of 10 internet providers for hosting extremist content.
Kommersant notes that Alexander Torshin, the vice-speaker of the Federation Council, Russia's upper house, has already issued strong complaints against the world-wide web. According to Torshin, the role of the internet "as a means of terror propaganda" has grown to such an extent, that it is "not without reason that it's called the academy of terrorism." Terrorists apparently "spread information freely," "practically propagandize their ideas in the open, recruiting new adherents, buying up weapons and munitions, [and] communicating with one another." The senator was adamant that lawmakers need "to work out unified identifying criteria for terrorist websites, formulate techniques to expose them and constantly monitor their activities, nationally and internationally, and also [work out] the means to close these sites."